Next Issue "Netflix for magazines" hits iPad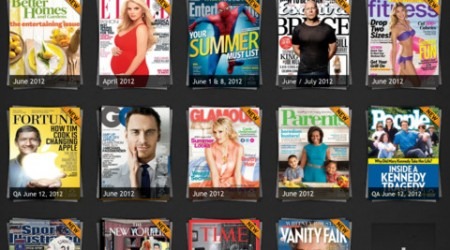 "All you can eat" digital magazine app Next Issue has launched on the iPad, bringing unlimited access to titles like Esquire, TIME and Popular Mechanics to the iOS tablet from $9.99 per month. Released back in April for Android tablet users, Next Issue bypasses the traditional single-issue or single-title subscription system we've seen attempted by most digital versions of magazines to-date, replacing it with unlimited access plans.
Around thirty-four titles are available with the $9.99 per month "Basic" plan, including Car and Driver, Elle, Fortune, Vanity Fair, GQ, Vogue and Wired. Step up to the $14.99 per month "Premium" plan, meanwhile, and that throws in a further five titles, consisting of Entertainment Weekly, People, Sports Illustrated, The New Yorker and TIME.
In short, it's Hulu or Netflix for magazines, or at least that's the promise. The magazines themselves aren't merely scans of the paper equivalents, but optimized for tablet displays, and include video and extra content that didn't find its way into the print version. Thanks to some nifty caching, you can start reading before the entire magazine has downloaded to your device.
There are 30 day free trials available for both the Basic and Premium plans, and you can download the reader application here [iTunes link]. We've reviewed the Android version over at Android Community, and you can find more details on Next Issue and the iPad app in the videos below.