Next-Gen Porsche 911 Turbo spied in production body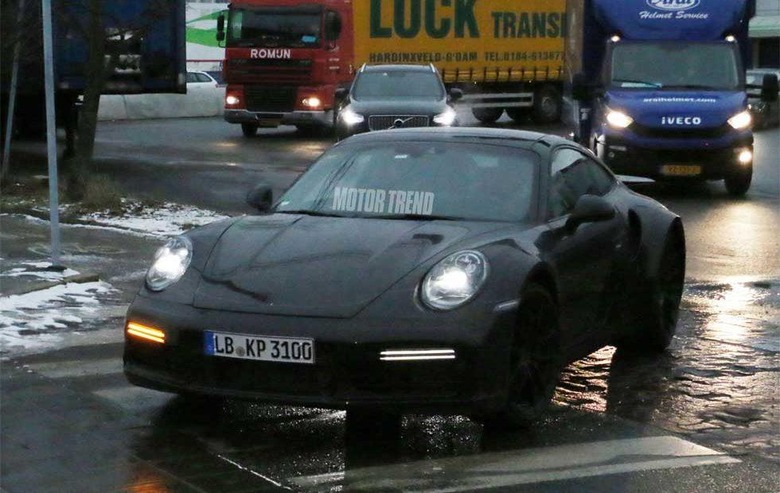 We know a refreshed Porsche 911 Turbo is in the works and will be coming soon. We also know that the new Turbo won't be that different from the old. Porsche is notorious for its evolution, not revolutionary design changes.
The new Turbo has square quad exhaust tips and the wide rear fenders you expect to see to allow wide tires underneath. The rear wing is fixed, and the car has air intakes in the rear fenders. Porsche has fitted the car with double LED daytime running lamps and a revised front end that sets the car apart as a next-gen model.
The engine expected to be the star of the show in the new Turbo is a twin-turbo flat six likely with 3.8L displacement. Power is a mystery but is through to be around 600hp. The current 911 Turbo S makes 580hp so an extra 20hp isn't out of the realm of possibility.
Porsche is expected to use an 8-speed PDK dual-clutch transmission. All-wheel drive is expected to be standard on the car. The third-brake light near the rear window looks tacked on and is the worst looking part of the car.
Whatever happens with the new 911 Turbo, you can expect better performance than the outgoing model. Porsche has been subtly tweaking the 911 for many years now and has ended up with one of the most iconic sports cars in the world.
SOURCE: MotorTrend