Next-gen E-Ink Kindle could get illuminated screen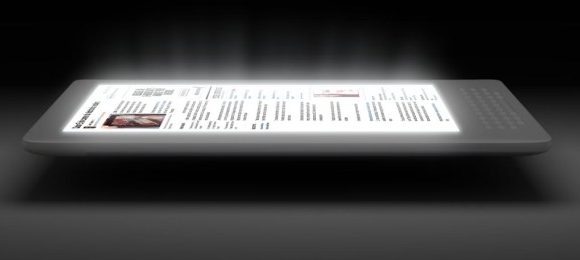 Amazon's next-gen e-ink Kindle may come with a front-lit screen, according to TechCrunch, which claims to have caught a glimpse of an early prototype. The e-ink display offers a more comfortable paper-like reading experience, but like paper it can only be read during the day or in well-lit conditions.
Apparently, Amazon has been considering introducing glowing screens to its Kindles for awhile as it had quietly purchased Oy Modilis, a leading company in light-guide technology, back in 2010. The company has several patents for display lighting technology, one of which appears to be the one that will be used in the new Kindle.
From what could be seen on the prototype, the illumination of the next-gen Kindle is a soft glow compared to the harsher brightness of back-lit LCDs. The light is turned on by tapping the screen and dragging a slider to the right. At this point, the color is still bluish white rather than a warmer off-white associated with books being read under lamp lighting.
It's not clear what other changes will be made to the new e-ink Kindle, but the addition of the illuminated screen isn't expected to add much thickness. The refreshed e-reader should arrive later this year.