Newspaper Kindle could launch this week, claims NYT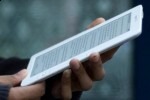 Amazon are tipped to launch a new, large-screen version of the Kindle e-reader "as early as this week", according to the New York Times.  The device is apparently intended for viewing newspapers, magazines and "perhaps textbooks"; ironically, when article author Brad Stone asked his own paper for a comment on talk that the NYT will be involved with the large-format Kindle's launch, they declined to give a statement.
Other papers were less reticent to voice their enthusiasm, with the CEO of The Financial Times – which has a 121 year history in print – saying that they are "looking at this with a great deal of interest."  The recent economic downturn, he says, together with an ongoing drop in circulation, has "rightly focused attention on these devices." 
Various newspaper subscriptions are already available on the Kindle, delivered daily over its integrated 3G wireless connection.  Meanwhile the Wall Street Journal is claiming that the fruits of the Plastic Logic and Hurst partnership will see their Reader hit the market in early 2010, together with fingering Apple for developing their own "device that may make it easier to read digital books and periodicals".  It's possible that this unspecified device is, in fact, a reference to the rumored Apple Media Pad.
[via Engadget]