News Corp reveals education-equipped tablets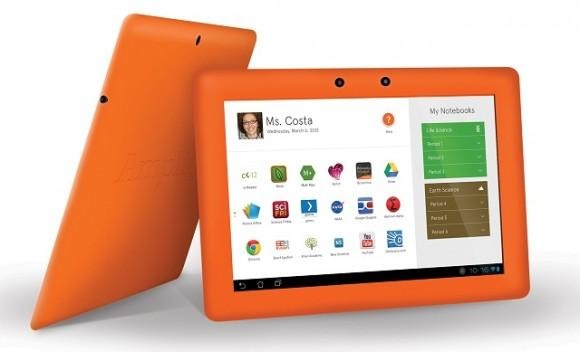 News Corp is planning on joining the tablet market soon with it's own $299 tablet. But News Corp's tablet won't just be any standard tablet. Its tablet will be geared specifically towards teachers and students. The tablet will run on Android's operating system, and will be powered by News Corps education brand, Amplify. The tablet is supposed to rival Apple's iPad, which is currently the most preferred tablet in the education market.
News Corp's Amplify tablet will come bundled with a lot of education apps. There will be Google apps for Education, educational music, video games, online textbooks, Merriam-Webster's Dictionary, a graphic calculator, and a search engine that can find millions of hours worth of lessons and homework. There will also be access to videos from Khan Academy, as well as CK-12 textbooks. There will be lesson planners for teachers, principals, and parents, as well as tools to help them monitor their students' performance.
The tablet is fully-equipped to provide a great education for students. Joel Klein, head of News Corp's Amplify brand, stated, "The last thing we need is another pile of used laptops at the back of the classroom. This time is different. This is a fully integrated teaching and learning solution." Klein states that if News Corp didn't design a tablet that "really facilitates and changes teaching and learning, then we'll be where we've been in the past."
This new tablet could be a game-changer for education, and it could completely modify the way we homeschool children. But how much will this tablet really cost you? For the Wi-Fi only version, the tablet is $299, however you'll have to pay a $99 annual subscription fee to Amplify for two years. It's essentially a two year contract. To buy the 4G tablet, it'll cost you $349 and a $179 annual fee for two years. The subscription includes all of Amplify's educational materials, tech support via live chat, phone and e-mail, and professional development for teachers. While innovative, this tablet does have a pretty hefty price tag.
[via Fast Company]