Newman A1, just another iPod clone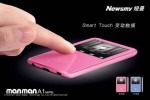 Newman has not given up on cloning some of the most popular electronics on the market. Unlike many companies the cloning is not limited to just Apple products. This time is appears that the iPod Nano was the victim with the cleverly designed A1.
Despite being just another clone this device has a nice fashionable look to it.  This one really takes toward being a clone of the iPod Nano 4th gen for those who are familiar with it. From the pictures we can see an interface that is almost exactly like cover flow, but they state it is a new type of Smart Touch UI. Newman is not famous for their user interfaces by any means.
We also see what we guess is a 2-inch screen just above a heat sensitive strip which is located above the round button. The A1 also includes a RockChip RK2705 media chip, capable of playing multiple video files at high resolution along with multiple audio files. This device will be available by the end of January in bother pink and blue.