NewLight backlit wall portrait Review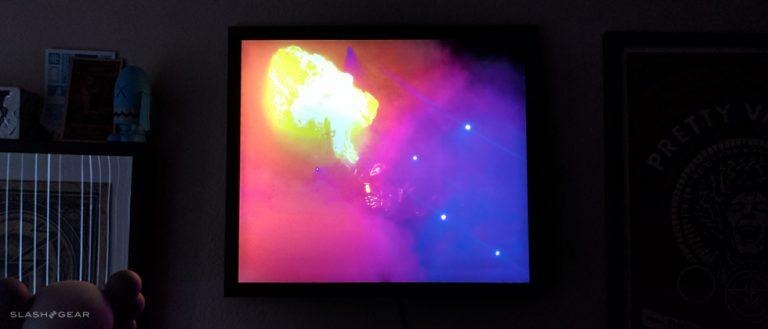 NewLight is a company that prints light-up portraits suitable for hanging on walls. They're a relatively small company, run by a fellow by the name of Joe Brychell. His aim is to bring the ability to deliver photographs to your eyes with light, but to do so without a computer screen. The result of the work the NewLight company does is a portrait that uses both projected light and reflected light to create a rather unique product.
To get an idea of what this sort of product was all about, we had NewLight print a 20 x 16-inch portrait for us to review. What we did was to get our original portrait of Gene Simmons breathing fire in Las Vegas blown up and lit up by the company. The photo comes from our KISS concert photo journal with Harman from CES 2015.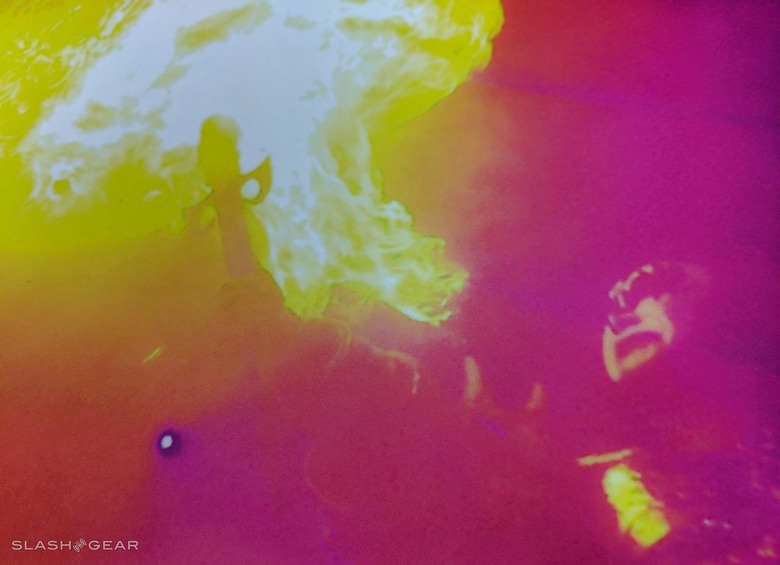 I captured this particular photo with an HTC Desire EYE, and you can see a flat version of it about 1/4th of the way into the KISS journal above. Now compare the original web-compressed to the NewLight reproduction. It's more than just an excellent print job on a strange substance. It's a production that brings me back to the moment I shot the photo.
The portrait is light and could easily withstand an accidental tennis ball hit, as it uses no glass. The edges use a hard plastic, while the front is a single sheet of transparent plastic. This outer layer is easily cleaned after the eventual splash of liquid (wine, beer, grape juice) from an overzealous fan of artwork.
Especially when the house lights are out and this portrait is all that's lit, its a sight to behold. That said, there are a few items that need improvement. One area is the amount of light leak around the edges and through a couple areas in the back.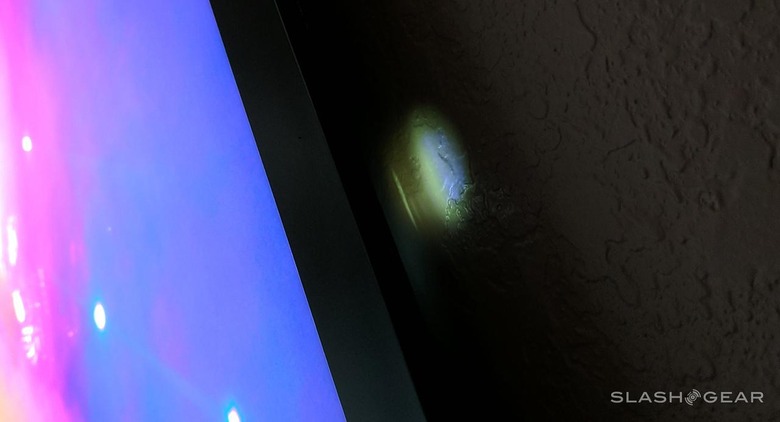 While I'd like to see NewLight address this with the design of their mount, there's a pretty simple fix until that happens. A bit of electrical tape, masking tape, or even some caulking can fix the little leaks here and there. It's not a deal-breaker, as the score reflects, but it's something you do notice in the right lighting conditions and would be a pretty straightforward tweak for the company to make.
Another area for improvement is in the intended hanging method. With a couple of screw-in loops that sit above the back of the portrait, and a wire hanging down below, I'm left wanting. I wish there were a thicker edge around the back, and an option for different wire colors at the start.
What might be an awesome idea is to incorporate some sort of solar power and battery storage system with this portrait. It'd have to be put in just the right spot near a window – not in direct sunlight but not in the dark during the day. The image is already prepped for long-term exposure to light – there's no reason to believe sun would do any damage.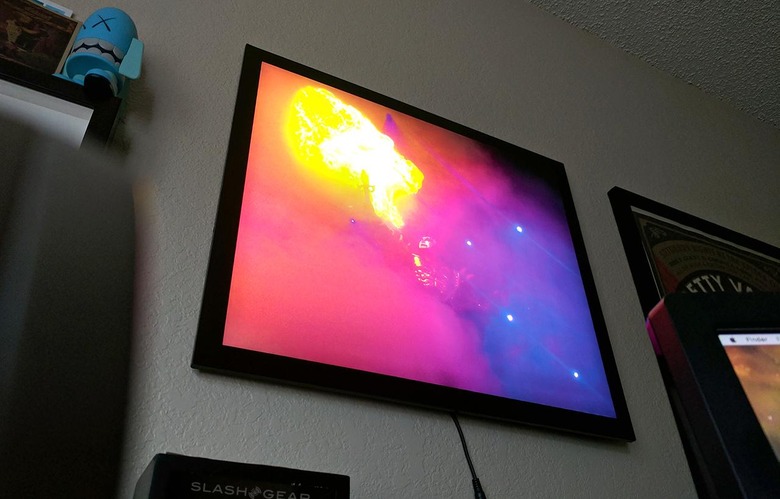 A product with this much potential deserves to be improved upon until it's perfected. Iterative changes would add up to a cumulatively large improvement for the end product.
Once these fixes are made, I'd love to see a gallery presentation of images printed with the NewLight treatment. Artists will find that some photos work far better than others. Types like this, where light is the subject, are flattered far more than those wrapped in dark.
Wrap-up
While the company itself is new, Brychell has been in the business of photography production for decades. Have a peek at NewLight and don't let the normcore web design throw you for a loop. The end product is nice quality with a light was bright and colors that were sharp.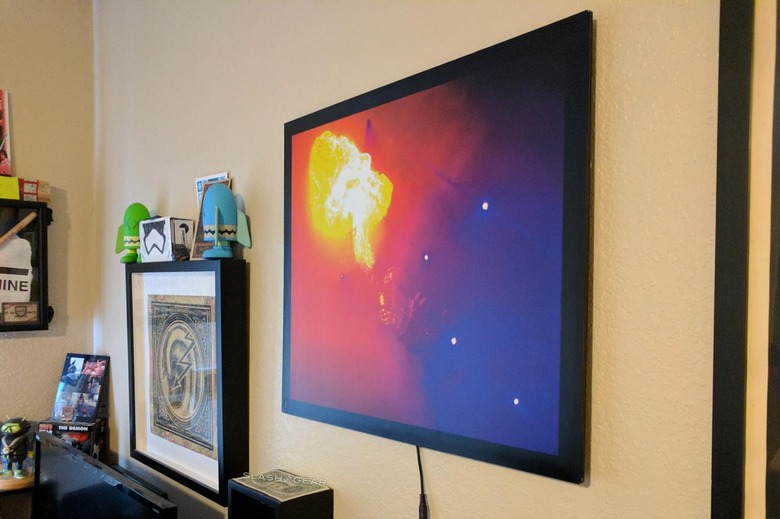 Above you'll see the portrait in a yellow light-lit room with the NewLight switch turned off. The whites pop and the blacks are deep, and the image remains one that can be displayed at all times of day. With or without the light on, the end product is good.
The 20 x 16-inch portrait we have here will cost a cool $200 USD from NewLight. A similar product – though not one we've tested ourselves – comes from the company Backlit Box. For the same size (20 x 16-inch) backlit print from Backlit Box, we'd pay $150 USD.Another similar product (an inch or two larger) costs $129 from the folks at Photoglow – though they have glass and larger frames.
Canvas prints, on the other hand, are monumentally cheaper than this production. A 20 x 16-inch print on canvas can cost as little as $20, depending on the end quality. In NewLight's favor is how its unusual presentation emphasizes your image in a way traditional spotlighting can't, and for the right shot that could make all the difference.