NewerTech USB 3.0 Universal Drive Adapter makes any drive an external storage solution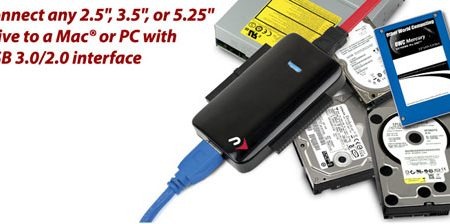 I have a bunch of old HDDs that are crammed into drawers in my desk because I didn't want them in my computer and they are packed with data that I don't want to just throw them away. I could get an external enclosure for them so I can get the data and use the drives, but I don't want another enclosure on my desk.
NewerTech has a new universal adapter the is perfect for me and anyone else with multiple HDDs or SSDs sitting around that they want to access the data on. The new adapter is called the USB 3.0 Universal Drive Adapter. It's a small and easy to use little box that takes any SATA HDD or SSD and turns the thing into an external USB 3.0 storage drive.
The adapter will work with any size HDD with the standards adapter and will even work with SATA optical drives as well. The thing also has ATA/IDE ribbon cable connectors to let you use any of those old optical drives you might have sitting around. The adapter is available right now for $39.99.