NewerTech debuts Guardian Maximus mini RAID solution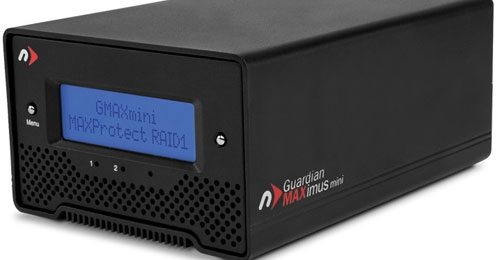 NewerTech has lots and lots of storage solutions and other gear that help computer users keep their data safe and available. The company has unveiled a new storage device called the Guardian Maximus mini. The mini sports a quad interface making for flexible connectivity options.
Those four interfaces include FireWire 800/400, USB 2.0, and eSATA. The mini supports RAID 1 and RAID 0 and is designed for live activity backups and data redundancy on a Mac or PC. The mini can be fitted with up to 1.5TB of storage and has data transfer speeds of up to 300MB/s. The device can also be had in a version with SSDs inside rather than HDDs.
The small device measures 5.2" x 3.5" x 2.1" making it very small and it only weighs 1.5 pounds. That small size makes this one of the only portable RAID solutions around. The mini with a pair of 500GB HDDs is $249.99, crank that up to a pair of 750GB solutions and the price goes to $399.99. Those wanting SSDs can get a pair of 200GB SSDs for $1349.99 or a pair of 400GB SSDs for $3299.99.