New Zune Car Package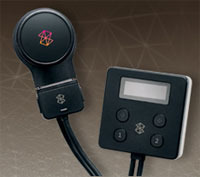 Well it looks like Microsoft is at it again with the whole not letting anyone else touch the dock connector thing. As such they have released a new FM transmitter for the new Zunes that are coming in November.
The new FM transmitter can find the optimum stations (for example those without other stations broadcasting on them) automatically so you get the best audio playback through this device. There is also a grip pad so everything isn't sliding around all willy nilly.
It will be available on the same day as the new Zunes, November 13th, for the still overpriced $79.99. That is one of my biggest complaints about the Zune is Microsoft's lack of openness as far as letting 3rd parties manufacture Zune accessories, if I wanted an FM transmitter for an iPod I could probably go buy one that makes proper use of the dock connector for like $30, maybe $40-$50 for one that charges as well, not $80.
Car Pack FM Transmitter for the New Microsoft Zune Line [via pmptoday]