New York City reveals new species of frog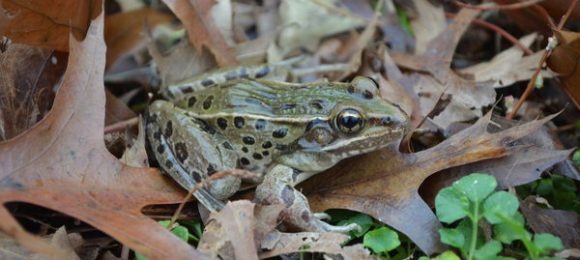 Believe it or not, there are animals out there in the world that we do not yet know everything about – and a new one has been found right here in the USA in one of the most highly trafficked cities on earth. What you're looking at is a brand new species of Leopard Frog discovered this week by a Rutgers University student right in the heart of Staten Island. Researchers say this particular frog had not yet been identified because of its appearance which is extremely similar to its close relative the Southern Leopard Frog.
This species of frog was discovered hiding in plain sight without a care in the world just taking its cool time to hop into both science and history books here in 2012. This species of frog may have been much much more common in the past but the vast human population in the area likely has had adverse effects on the wildlife in the many years New York has been evolving. The Rutgers University doctoral candidate who discovered the frog says the species very likely inhabited other areas of the five boroughs at one time or another.
This doctoral candidate's name is Jeremy A. Feinberg and it was all the way back in 2009 when he started to investigate the frog's existence. It is only now, three years later, that he and his team of researchers are feeling comfortable enough to report what they've found. As H. Bradley Shaffer, Professor of Ecology and Evolutionary Biology at the University of California in LA notes:
"Here is a brand-new species, and it's not a species of bacteria or a barely visible insect. It's a big amphibian, and kids have probably been catching and playing with it for years. Even in an urban center like New York, where herpetologists have tromped all over for a century or more, there can be new species out there. That shows the importance of urban areas in terms of conservation and biodiversity." – Shaffer
This species of frog has also very recently been discovered (after the NYC revelation of course) in areas north of New York City and in parts of New Jersey, all spots "within commuting distance of Manhattan." These little guys have clearly been around the block before, having just popped up on science's radar this year. Would you know a new species if you saw it? And much more importantly: who would you tell if you found a frog unbeknownst to science?
[via The New York Times]