New Windows 10 build sees Cortana explode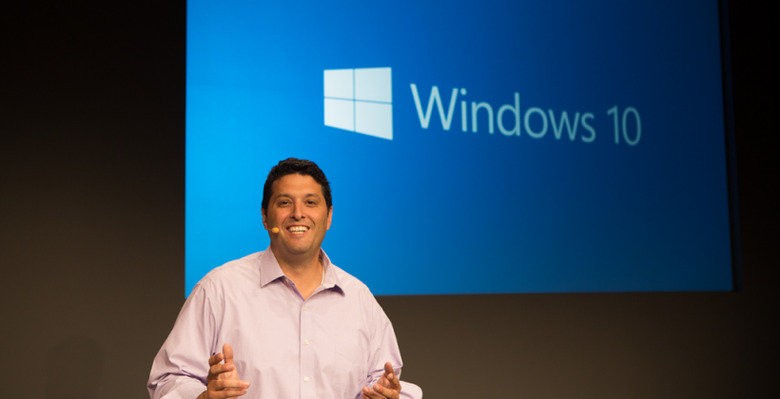 Microsoft has released Windows 10 Build 10041, the company has announced. The latest preview build brings with it some bug fixes and some new features, and is available to those who have been trying out Windows 10 through Windows Update. Before you get your hopes up, don't: Spartan isn't included with this build. Good news comes in particular for those in certain markets around the globe, however, with Cortana expanding on desktop to include China and various regions in Europe.
If you're in China, the United Kingdom, Italy, France, Germany, or Spain, you'll be seeing Cortana on the desktop with this latest build, being able to use her aid in finding apps, files, settings, and searching the Web. Microsoft advises that "Cortana is still fairly new to the desktop", but they're ironing out any issues she still has and she'll become more capable as time rolls on.
Virtual Desktops have been improved, which Microsoft says focuses on the biggest request it received from Insiders — namely, they can now draw a window into a Virtual Desktop rather than right-clicking (one can also now drag the window to the "+" icon and save a step). There's a new network fly-out on the taskbar, the Photos app has been enhanced (Live Tiles now include OneDrive images, among other things), and there's are improvements to the text input visuals. Some usage tips will also now be cropping up on the lock screen (Microsoft says it is "experimenting" with different things).
Check it: 9 Things To Know About Windows 10
As far as bug fixes go, all those issues users encountered with launching the Start menu in 9926 should be fixed, and the search box will keep working even if you move the taskbar to the sides or top of the screen. Those who aren't dual-booting will no longer be seeing that boot selection menu upon rebooting, and Microsoft is fairly certain you won't be seeing those grey thumbnails in Photos' Collection view any more ("We think we've worked through" them, it says).
Of course, and as you should expect, this build brings with it some of its own problems, and they outnumber the ones that were fixed from the previous build. Chief among them is a possible problem with getting the username and password boxes to appear so they can log in — if this happens, you'll need to try hitting "Switch User" or ctrl+alt+del, or you'll need to hold the power button until the system sleeps and then try again.
Meanwhile, Microsoft saying that it is "working hard' to get a new Windows 10 for phones build out, but that it needs more time to do so — how long isn't stated. Be sure to check out the timeline below to see some other recent Windows 10 news, including the latest on Microsoft's browser shakeup!
SOURCE: Windows Blog