New website ranks hotel WiFi so you can stream in peace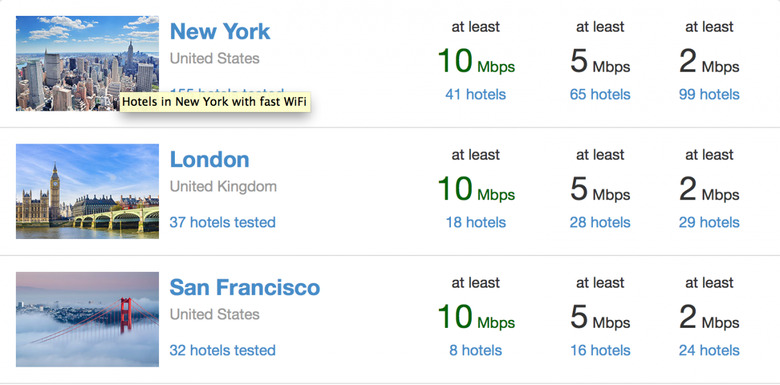 When booking a trip, the hotel stay is important. You want a nice area, a nice bed, and an even nicer breakfast (and hopefully cookies in the lobby). Sometimes, you're let down by the WiFi connection — a headache you didn't ask for. A new website makes sure you don't have those annoyances, or that you can at least plan accordingly.
The aptly named Hotel WiFi Test is a great site for deciding who has the best signal. They've cobbled together info on hotels in many major cities, and even provide some filters for your needs. If you know you'll be streaming a lot of media, pick from those with great download speeds. Making some changes to hosted docs? A better upload might be better.
The site currently lists major cities (New York, San Francisco, Las Vegas, London, Singapore, Bangkok, Amsterdam and Hong Kong). The list isn't comprehensive yet — San Francisco, for instance, only has about 32 hotels tested.
If you need to know which chains have the best connection, Hotel WiFi says Andaz, Le Meridien, Radisson Blu, Four Points, Scandic, Sheraton, Crownde Plaza, Marriott, Hyatt and Residence Inn are tops.
The site works by travellers uploading their results, and a speed test can be done right form the site. Hotel WiFi also takes into account the time of day the test was taken, or if it was peak travel season when the hotel was likely to be full.