New unconfirmed Microsoft SkyDrive features tipped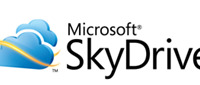 Some new features have surfaced that will be included in Microsoft's SkyDrive cloud-based storage solution. Microsoft hasn't confirmed these features, but they're said to be part of SkyDrive Wave 5 M3. One of the new features is the ability to manage BitLocker recovery keys that are stored on SkyDrive. The feature will allow you to recover forgotten passwords easily.
SkyDrive is also said to support OpenDocument formats and allows selection of default office document formats. The SkyDrive app for Windows and Mac is also tipped to allow the user to access files and folders on local computer via the SkyDrive web interface. A link shortening service is integrated into the latest update to significantly shorten long sharing URLs.
The update also adds direct sharing to twitter and other services in addition to the previously supported Facebook, MySpace, and LinkedIn. The size of individual files has been increased to 300 MB from the previous allow 100 MB limit. These updates will be appreciated by end-users, and more updates should be coming before SkyDrive goes live.
[via Liveside]