New Super Mario Bros. for Nintendo Wii announced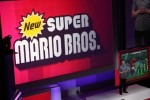 Nintendo E3 2009 is going on right now and we just heard that the game maker will be releasing a brand new version of their classic, Super Mario Bros, but this time for the Wii. This version is called New Super Mario Bros. and it's sure to be a trip down memory lane for many.
The new game will be in the classic 2D style and will be a side-scroller. You will have the ability to play four-player co-op. New power-ups and game play features have bee added as well, which is pretty cool for those of us that enjoyed the original game.
Also included is an auto-zoom feature that pans around and zooms in to make it possible to keep all four players on the screen at once. That's good news for those that tend to get lost in co-op mode, but might be a bit distracting–we'll just have to wait and see. You can expect New Super Mario Bros. for the Wii to be released by Christmas.