New report claims 95 percent of music downloaded is pirated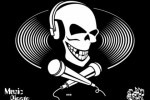 The International Federation of the Phonographic Industry has released its annual report for 2008, stating in short that piracy is indeed becoming a very large problem. The rather large report makes many claims and tries to help better understand how to prevent it while educating people of the affect it is having on business.
Business efforts in the music industry today are being shot down by the increased availability of unlicensed music to the general public. IFPI is estimating that over 40 billion files have been shared illegally in 2008 alone, this brings the piracy rate of music files to about 95 percent. However there is no guaranteed way to track all of the illegal music transfers that are taking place. Music being downloaded, then burned to a CD and distributed make matters even worse.
Several major artists are even seeing the affects of this in their everyday work. The Smashing Pumpkins have stated that they are not going to release any more albums because of the way the music industry has been affected by being able to download music. They simply do not see a point in recording an album if someone is going to go online and illegally download a single song. Record sales are ultimately taking the fall here as live performances generate the bulk of income for such bands.