New remote from DLO lets you control your iPod anywhere in your house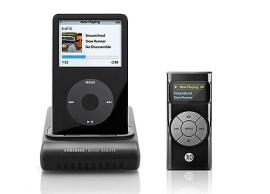 If you enjoy loading up you iPod with tunes and hooking it up to your home stereo, you probably know the frustrations of having to walk over to it every time you want to change songs or pause it. DLO has created a solution for this issue.
The iPod rests in a dock that unlike other solutions, does not drain your battery. You can hook it up to your home stereo equipment and control the iPod from the tiny nano-sized remote. The remote uses RF signals, so you can use it anywhere within a 150 foot area.
You can pick one up at the Apple store or direct from DLO for $130.
DLO announces iPod remote for when you're on the go– inside your house [via crave]