New Porsche 911 Carrera Coupe and Cabriolet are looking sexy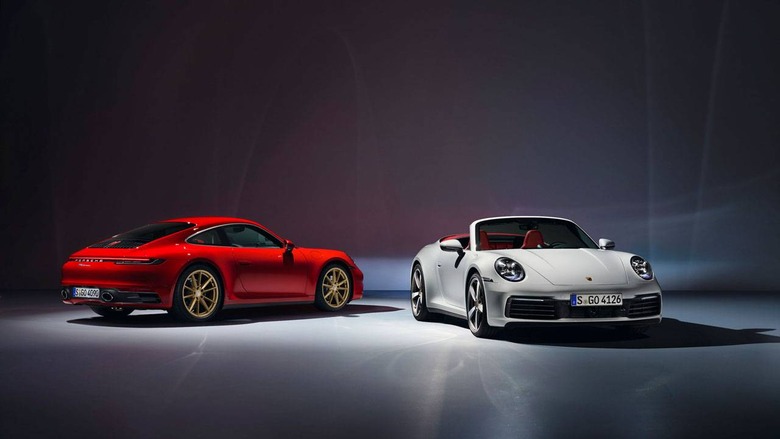 Porsche has debuted the new 911 Carrera sports cars with both a coupe and a convertible breaking cover. Power for both Carrera version comes from the same 3.0-liter six-cylinder boxer engine that uses new turbochargers. The new turbos have smaller wheel diameters for turbines and smaller compressors.
Power goes to the wheels via a new 8-speed dual-clutch PDK transmission that allows acceleration for the Carrera Coupe of 0-100 km/h in 4.2 seconds. The coupe has a top speed of 293 km/h. Buyers who opt for the Sport Chrono Package reduce the 0-100 km/h time by 0.2 seconds. Both Carrera models use 19-inch 235/40 ZR tires on the front with 20-inch 295/35 ZR rear tires. Brakes are 330mm discs all around with four-piston monoblock calipers.
The engine makes 285 PS and 450 Nm torque while producing 206 g/km CO2. Brakes are 330mm discs all around with four-piston monoblock calipers. Both the Carrera Coupe and Cabrio get a new interior design that features Porsche Advanced cockpit.
The interior has a 10.9-inch touchscreen display and comprehensive connectivity options. The car also gets innovative assistance systems like Porsche Wet mode. The 911 Carrera Coupe weighs 1,505 kg.
The 911 Carrera Convertible weighs 1,575 kg and pollutes a bit more than the coupe with 201 g/kg emissions and 9.2l/100km fuel economy. Porsche says that Carrera models can be identified by their smaller wheels and individual tailpipe covers on the exhaust system. Pricing and availability are unannounced at this time. Carrera models are the entry-level 911 cars, and the new modes have 15 kW more power than the outgoing versions.