New Porsche 718 Cayman GT4 Clubsport comes in two flavors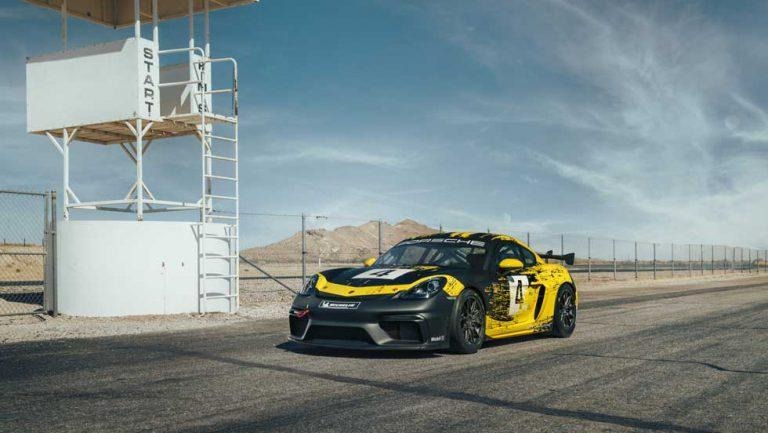 Porsche has debuted the new 718 Cayman GT4, and for the first time, the racing car comes in two versions. One version is a pure competition version explicitly designed for national and international motor racing. The second version is aimed at the "ambitious amateur" racing driver and is a "Trackday" model.
Porsche says that on the new GT4 Clubsport it put lots of effort into fast lap times and sustainable use of raw materials. One of the significant features is that this is the first production race car to have body parts made of natural-fiber composite material. The driver and passenger doors along with the rear wing are made of agriculture by-products including flax or hemp fibers. The material has properties similar to carbon fiber in terms of weight and stiffness.
Both the GT4 Clubsport flavors see the return of the 3.8L flat-six engine making 425hp, a 40hp bump from the last version of the GT4 Clubsport. Both cars use a dual-clutch 6-speed transmission with mechanical rear differential lock. The front suspension is straight from the 911 GT3 Cup car.
Brakes are steel discs all around at 380mm in diameter. The cars weigh in at 1,320 kilograms and come with a welded in roll cage, racing bucket seat, and six-point harnesses. The base "Trackday" version aimed at amateur events has a fixed shock absorber setup with ABS, ESC, and traction control tuned for driver assistance, but the systems are defeatable. It also has an AC system, rescue hatch in the roof, fire extinguisher, and 80-liter FT3 fuel cell. The car isn't street legal, but can be serviced at any Porsche Centre and sells for 134,000 Euro.
The competition model has three stage adjustable shock absorbers, 115L fuel tank, infinitely adjustable brake bias system, integrated air-jack, and a quick release steering wheel. The car also features an automatic fire extinguisher system. The competition model is priced at 157,000 Euro. Both versions are available to order now with deliveries globally in February.