New PlayDock i from Cambridge SoundWorks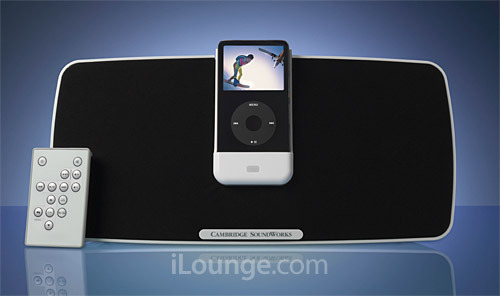 Cambridge SoundWorks, a subsidiary of Creative Technology, has just announced the debut of their new iPod docking speaker system called the PlayDock i. The unit features Cambridge's high performance drivers, integrated powered subwoofer, a charging iPod dock, a video-out connector for photos and videos, line-in connector, headphone jack, and AC or battery power up.
The system is magnetically shielded and comes with a remote control with a cool asymmetrical button layout. I'm liking the gentle curving outline, the overall minimalist design, and especially the levitating-iPod effect when a white iPod is placed on the dock (see more pictures after the break). The PlayDock i was designed for the 4G and 5G iPods, the iPod mini, and iPod nano. Priced at $200 and expected for January 2007.
Cambridge SoundWorks intros PlayDock iPod speaker system [Via: iLounge]