New Philips Fidelio docks just for Android users debut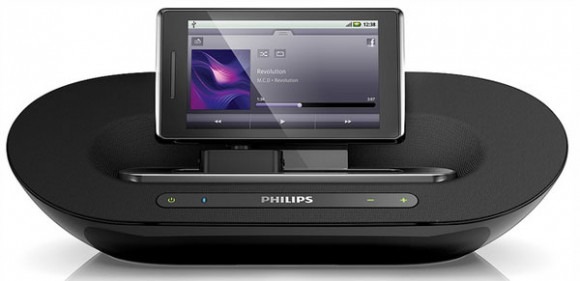 If you are an Android user that is in the market for a new speaker dock that you can use with any Android device you own, Philips has a trio of new offerings that turned up at IFA 2011 this week. The new docks are all in the Fidelio line and they are each based on the same speaker systems that Philips has in its iPhone line. The Android docks use Bluetooth and they have an app that allows connection to content in several places.
The app allows the user to play their own music playlist and stream from the web. There are three different docks in the Android line including the AS851, the AS351, and the AS111. The AS851 is the top of the line offering and it has a design made to structure the acoustics for deep bass and great sound. The device uses crystal-sound technology and uses digital sound processing. It has 30W RMS total power output.
The AS351 is the next step down the range with the option of battery or AC power to allow it to be used on the go and at home. It has bass boosting technology and 10W RMS total power output. It also has an AUX input for other devices on the back. The final docking station is the AS111 with a compact design perfect for your desk or nightstand. The dock has 360-degree sound to provide sound quality anywhere in the room.
[via Android Community]