New Panasonic 8GB Pro SDHC SD Memory Card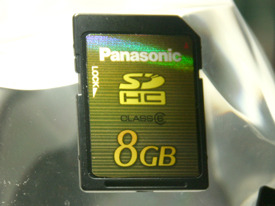 That's right, 8GB which apparently equates to a little over three thousand images. With the number of digital pictures I have taken, I couldn't even begin to fill that card, thankfully its uses aren't limited to photography.
The full name for the card is the RP-SDV08GU1K. It contains a class 6 speed specification allowing transfers to top out at around 6MB/s.
It is also compliant with the second version of the SD card standard and can store close to two hours of AVCHD Normal Mode HD footage. The card drops in September and will run you $159.99, do the math that's one cent short of $20 a gigabyte. So unless you are a professional photographer of some sort, I would recommend buying smaller capacities and just changing them out.
Panasonic Announces 8GB Pro High Speed SD Memory Card [via Crunchgear]