New Palm P102UNA/P102EWW phones tipped along with Touchstone replacement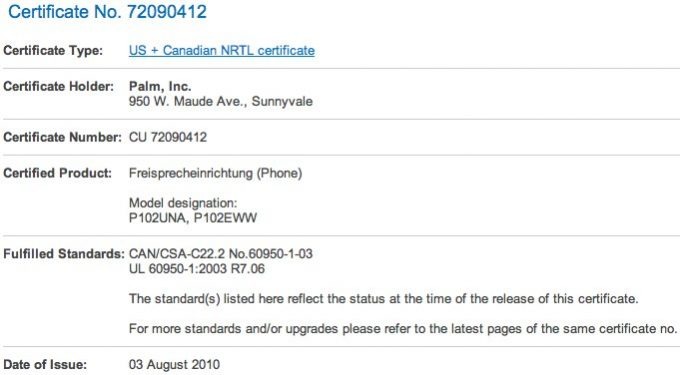 Two new Palm devices – complete with a new inductive charger – have shown up at certification specialists TÜV Rheinland, the Palm P102UNA and Palm P102EWW, suggesting HP has some new weOS hardware incoming.  No specifications at present, but according to the listings the devices have been certified for the US and Canada.
Based on Palm's product reference conventions, the P102UNA and P102EWW are likely to be the same device only using GSM and CDMA radios respectively.  The Palm Pre was known internally as the P101 (with various suffixes according to North American or European radios) whereas the Palm Pixi was the P121, which might suggest these new handsets are flagship replacements; they've also been appended to the original Pre certification, which lends further weight to that theory.
Naturally, there's no indication of quite when we might see actual commercial products announced, and with the issue date being early in August 2010 it's most likely these are leftovers from Palm's own development team rather than a new HP-led device.
[via webOSroundup]