New NVIDIA SHIELD Pro now available, 500GB HDD, microSD slot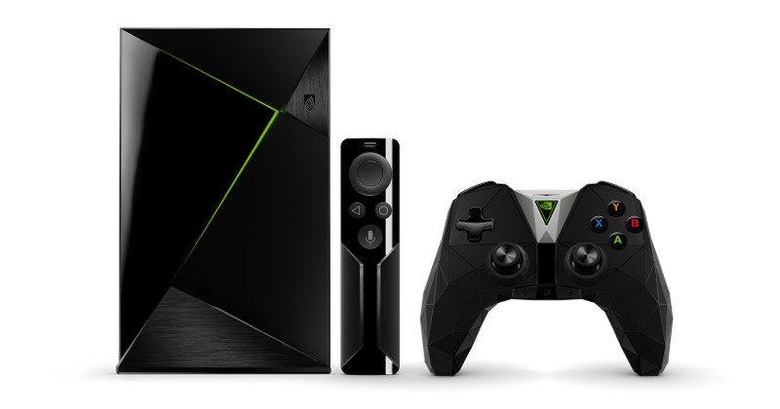 At CES 2017 early in January, NVIDIA made a surprising but still welcome announcement. It had a new SHIELD Android TV, but in many aspects, it's as good as the old SHIELD Android TV. In fact, in at least one aspect, it may be seen as worse. The new NVIDIA SHIELD, in the process of shaving off some size, also shaved off the microSD card slot. If that feature, however, is of utmost importance to you, then worry no longer. NVIDIA has just announced the immediate availability of the new SHIELD Pro, which is almost exactly like the older SHIELD Pro, microSD card slot and all.
The new SHIELD Pro is like the amalgamation of the new SHIELD and the old SHIELD Pro. It bears the new design, new features, and new promises of the newer Android TV device but keeps the relative size and storage options of the older Pro model. That practically means a 500 GB hard drive instead of a 16 GB eMMC and, more importantly, a microSD card slot for even more storage.
This makes the new SHIELD Pro the perfect home multimedia server, or so NVIDIA says. Of course, it also still makes a great gaming system, one where you won't have to worry about running out of storage or juggling external USB drives. And with the bundled new SHIELD Controller and new SHIELD Remote, you also get the promise of smart home control via Google Assistant. To be clear, that feature is still marked as "coming soon".
The NVIDIA SHIELD Pro is now up for grabs for the same $299 price tag of its predecessor. That, however, now includes both the controller and remote inside the box. And as cherry on top, NVIDIA is also announcing the addition of Just Cause 2 and Deus Ex Human Revolution to its growing roster of GeForce NOW game streaming titles.