New Nikon EDG fieldscope series for serious birders?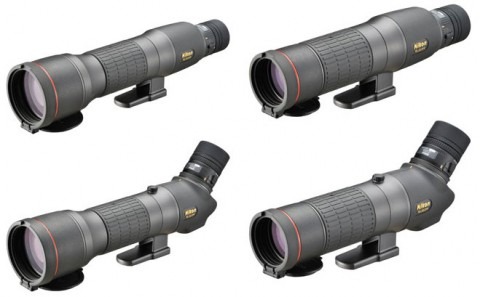 More Nikon Optics but made suitable for scientific researchers or Audubon naturalists. Like the stereoscopic microscope we reported last time, this high performance Nikon fieldscopes are compatible with Nikon's DSLR and Coolpixs series digital cameras.
The Nikon EDG Fieldscope line-up is completely new with waterproof outfit covers high-grade optics constructed from Extra-low Dispersion glass (ED) and phase correction coated roof prism with dielectric high-reflective multilayer coating. The extra O-rings and nitrogen gas water-resistant optics would be a perfect companion on a rainforest bird watching trip. Also, it features a bayonet-type EDG eyepiece (up to 75x magnification from the FEP-75W) mount with locking system.
Having work with birders on numerous occasions, I've seen great images taken with a good digiscoping system. Nothing comes close to what you can get from the dedicate Supertele prime lens in bokeh and sharpness departments, but got plenty of scope for bird identification.
But one thing that's amazes me about the Audubon expert reports on bird count is how they come out with an exact number in large population of subject. How does one document a huge flock of geese or birds flight off with number like 45,417? If you've been to the infamous Bosque Del Apache, you know what am I talking about. We always have a good laugh about the margin of error has to be at least 10,000 for every 40,000 birds, even with the finest optics made available.