Nikon's stereoscopic Microscope now fits Nikon DSLR, Extreme Macro anyone?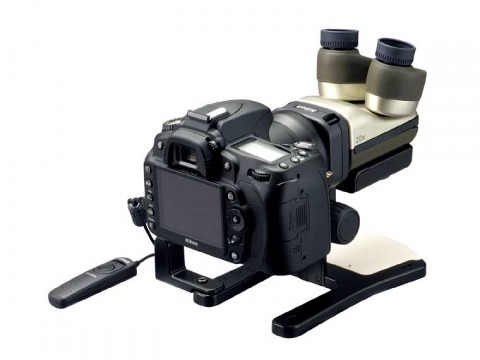 Shoot! I thought my stacked lenses with 2.7:1 magnification was extreme, Nikon optics geek-squad have came out a portable stereoscopic microscope, for the first time ever, allows the use of its DSLR lineup to capture images with magnification of up to 66 times from a 1.5 crop factor image sensor.
The Nikon's Fabre Photo EX upgraded from the previous Fabre Photo to improve chassis fitting and rigidity, and applied a new coating on optics department to enhance image quality. The unit draws it power from one AA battery, lasts up to 10 hours of continue use, and has a white LED light to aid shooting in dim enviroment. An adjustable inner tube system allow 3 level of magnification and interchangeable to fit Nikon DX or FX Format DSLR.
Base magnification is 20 times with ultra narrow FOV of 11mm, and according to Nikkie, can be further increased to 45 times when uses in a DX format camera, and extendable to 56 or 66 time magnification with additional uses of tubes. At that rate, the freezer trick is unavoidable if one were to utilize the Nikon's observation optical system for bugs.
For the price of ¥108,150 (~$1,200) you can get your own up-close-n-personal bug lab at home. It's shipping by end of the month, presumably in Japan for initial release.