New Nexus device specs leaked via Samsung spreadsheet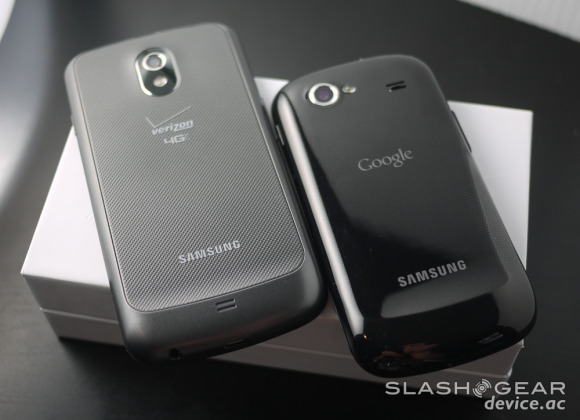 It appears that there's a brand new Google Nexus smartphone headed out via Samsung with slightly upgraded specifications over the next-newest device, the Galaxy Nexus. This next-generation Nexus device has been tipped by SamMobile where they've got the Galaxy Nexus to the left of the device and the Galaxy S III to the right. Unfortunately we don't have any actual hardware to confirm the reality of this smartphone, but the specifications certainly seem to be possible.
The current line of Nexus devices includes the Google Nexus 7, a tablet, and the Galaxy Nexus, a smartphone manufactured by Samsung. The device we're seeing here is code-named Nexus and has specifications that improve upon what the Galaxy Nexus has in several areas. The first place – and perhaps the most suspicious – is in the screen, incorrectly stating that the Galaxy Nexus has "Super AMOLED" display when in fact it has an "HD Super AMOLED" display. This display is compared to this new Nexus which is then said to have a "Super AMOLED HD" display, this set of words written in the wrong order.

HD Super AMOLED is defined by Samsung (and branded by Samsung) as resolution with Super AMOLED that's above 1280 x 720 pixels. With such a resolution across the same size display, we're looking at essentially the same setup as the Galaxy Nexus up front. The processor under the hood of this next device is said to be 1.5 GHz dual-core A9, this being a bit of an upgrade from the Galaxy Nexus (which uses Texas Instruments OMAP line) and the Galaxy S III (which here refers to the USA version of the device with Qualcomm's Snapdragon S4).
This device is also set to take on the Galaxy S III's cameras, both front and back, and will be coming in one iteration – 16GB internal storage. This smartphone will have a microSD card slot as well for memory expansion. Sound alright to you? If this device is indeed released by Samsung, it'll be as a Galaxy Nexus Plus, or some sort of half-step upgrade such as that. This sort of situation has never before occurred with the Nexus line of devices, but it might be starting soon!
[via Android Community]