New Nexus 7 due July tease tipsters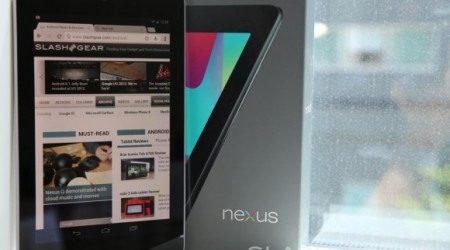 Google's second-gen Nexus 7 is on track for a July release but will see NVIDIA's Tegra ousted in favor of a Qualcomm Snapdragon processor, tipsters claim, with newly aggressive pricing ramping up the challenge to the iPad mini. The search giant has a strategy of market saturation, targeting up to eight million shipments of the 7-inch tablet in the second half of this year, a duo of insiders told Reuters; Google is said to be undecided on final pricing, but is considering two strategies, potentially setting the entry-level new Nexus 7 as low as $149.
In that approach, the existing Nexus 7 would be discontinued altogether, in favor of the new Snapdragon-powered model. However, the sources say, another possibility is that the new Nexus 7 could be priced at $199, and the existing version discounted so as to remain competitive in the budget end of the market.
Either strategy would undercut the iPad mini, not to mention ratchet up the pressure on other Android-based models such as Amazon's Kindle Fire. Google is believed to have stuck with ASUS for manufacturing duties, but jumped ship from NVIDIA's chipset to Qualcomm's Snapdragon range, according to the leaks.
That would put the updated Nexus 7 on the same silicon path as the Nexus 4, the LG-made Google smartphone, and leave the Nexus 10 tablet – which currently uses Samsung's quadcore Exynos chipset – as the odd one out in the line-up.
Google's hope is that it can almost double sales of the Nexus 7 year-on-year: industry estimates put sales in the second half of 2012 at around 4.6m, a number the company is aiming to boost to 6-8m before 2013 is out. One possibility is that Google will reveal the updated Nexus 7 at Google I/O, its annual developer event, this year set to take place from May 15.