New Moto Mods revealed, including a gamepad, wireless charging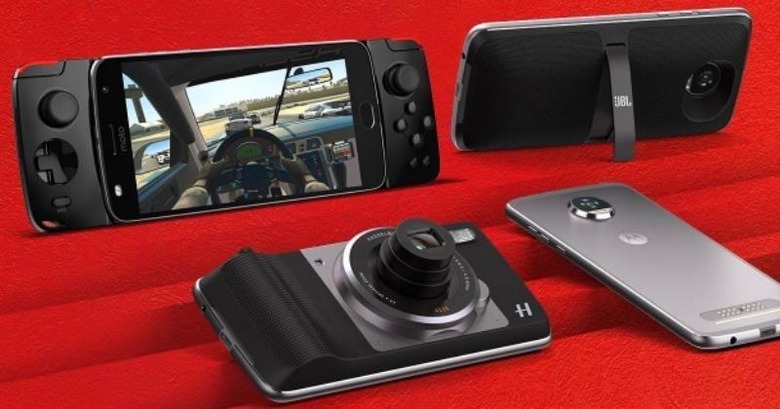 Motorola has just launched the new Moto Z2 Play and the reason why it looks so darn identical to the older Moto Z phones should hopefully be obvious by now. It's meant to be compatible with the available Moto Mods in the market as well as those yet to come. Some of those have finally arrived, giving some more teeth to the Moto Mods promise that Lenovo and Motorola are heavily betting on.
In theory, the Moto Mods system would appeal to almost any type of smartphone user, especially the more sophisticated and advanced ones. Imagine a phone that can be made to do anything with the right attachment, yet remain a slim, manageable device when you only need the basics. In practice, that relies heavily on the number and types of Mods available, and though Motorola is expanding the list by four, only two are really new.
The Moto Gamepad isn't exactly news to us. Moto itself inadvertently revealed its existence in one of its slides. Still, it's a good thing to see it come to market at last. Unlike Bluetooth gamepads with a similar design, this one connects physically via the row of dots on the back of compatible Moto Z devices, including the new Moto Z2 Play. That means no worries about latency or pairing. It also has its own, 1,035 mAh battery so it won't drain your phone's battery faster.
A set of new Moto Style Shells offer not only a chance to spruce up your Moto Z2 Play. The back cover also brings wireless charging to the smartphone, compatible with both competing Qi and PMA standards. And because they're stylish enough, you can keep them on even when you're not charging wirelessly.
Motorola has also introduced a second iteration of the JBL SoundBoost named, unsurprisingly, the JBL SoundBoost 2, ow with a longer battery life and a water-repellant skin. There's also the Moto TurboPower Pack for fast charging your smartphone, when neither a wall socket nor a wireless charging pad is available. The new Moto Mods, which brings the total roster to 12, will be available globally in summer with these price tags.
• Moto GamePad – $79.99 USD.
• Moto Style Shell with Wireless Charging – $39.99
• JBL SoundBoost 2 – $79.99
• Moto TurboPower Pack – $79.99