New MINI revealed as Cooper gets bigger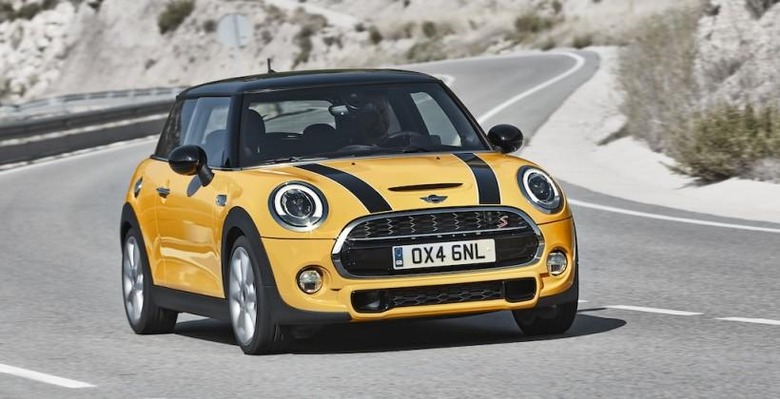 The new MINI Hardtop has been revealed, complete with its sporty Cooper variants, ahead of the BMW city car's official debut at the LA Auto Show next week, complete with all-new engines and a design that's bigger in all directions. The car is now longer, wider, and taller, with an extended wheelbase that adds up to more rear passenger space and more luggage capacity, though on the outside it's still unmistakably a MINI. BMW has squeezed in some extra tech, however, such as optional LED headlamps that can automatically adjust their spread and coverage depending on road conditions and route.
Versus the old version, it's 4.5-inches longer, 1.7-inches wider, and 0.3-inches higher; trunk space goes up to 7.5 cubic feed. BMW is calling the new finish to the headlamps, grille, and rear light clusers "reinterpretations" of the classic MINI style, though from some angles the car looks a little surprised at the front.
As for the MINI Cooper S, that has an extra bonnet opening, new brake air ducts, and a separated rear apron around central tailpipes. It'll be powered by a 2.0-litre, 4-cylinder engine (which will muster 192 HP in Europe but 189 HP in the US) with an overboost feature, pushing the car from 0-62mph in 6.8s (or 6.7s in the 6-speed automatic). However, BMW says it'll still get up to 28mpg, or 32mph for the auto version.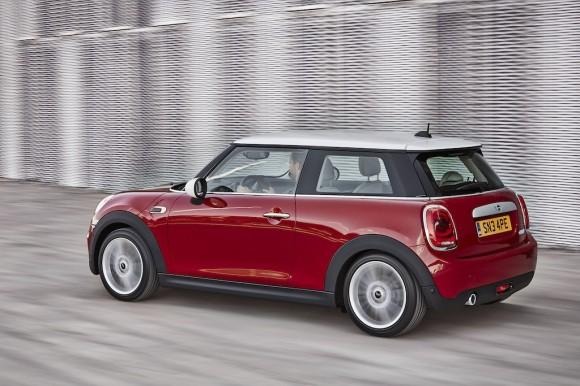 The MINI Cooper, meanwhile, gets a new 136HP 3-cylinder 1.5-litre engine (134HP in the US) good for a 7.9s 0-62mph dash and up to 34mpg. All cars have new suspension, and there's optionally adjustable dampers with a choice of comfort or "dynamic" setups.
Inside, there's a new instrument cluster, mounted on the steering column, which shows speed, engine speed, and fuel, while an LED ring around the 8.8-inch LCD central display gives at-a-glance indications of warnings and alerts. The MINI Controller, based on BMW's iDrive, is carried over, too, and there's a new Driving Modes dial which can switch between standard, sport, or economical modes, adjusting accelerator and steering response, plus how the auto-gearbox and dampers react.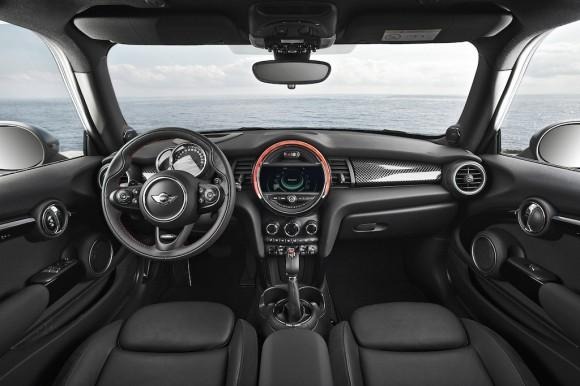 A head-up display, rear-view camera, and auto-parking are other options, as is two-zone aircon, and MINI Connected can be specified for smartphone integration. The latter will only work with iOS devices at launch, though BMW says Android phones will be supported eventually.
No word on US launch dates or pricing at this stage, but the new MINI Hardtop will arrive in the UK in early 2014, priced from around £13,500 ($21,750).