New Minecraft edition free for Windows 10 users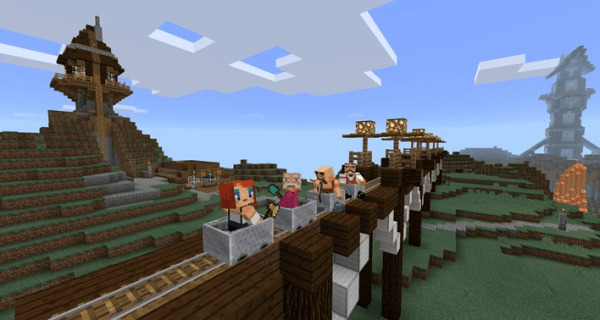 If you're a PC user, you likely already know that Microsoft's Windows 10 is now available, and it's a free upgrade for those already running Windows 7 or 8. Microsoft has been working hard for the last few months to make upgrading seem as appealing and painless as possible, but now it's relying on its acquisition of Mojang, the makers of Minecraft, for one last-ditch effort. Those who already own Minecraft and have purchased or upgraded to Windows 10 are now eligible to get the latest update for Minecraft for free.
In a blog post on their website, Mojang details how players can download the Minecraft: Windows 10 Edition Beta, which was first announced at the MINECON 2015 convention this summer, for free. The game can be downloaded from the Windows Store, but it requires users to be on Windows 10 when doing so. Also, this version of Minecraft is obviously exclusive (for now) to Windows 10.
As a beta, the new version of Minecraft introduces Xbox Live support, the ability to play with and Xbox controller, and other console-geared features including gameplay recording and the option to play with gamers on the Minecraft Pocket Edition. These upgrades should one day become standard in Minecraft, but there's no exact timeframe for that at this point.
Other than running Windows 10, the only other step required to get the new Minecraft beta is to sign in to your Mojang account on their website. There will be a redeem button, and that will then prompt you to log in with your Microsoft account. After that, you'll be directed to download the newest version of the game, and enjoy all the Windows 10-goodness.
SOURCE Mojang