New Mercedes SL teased ahead of LA debut next week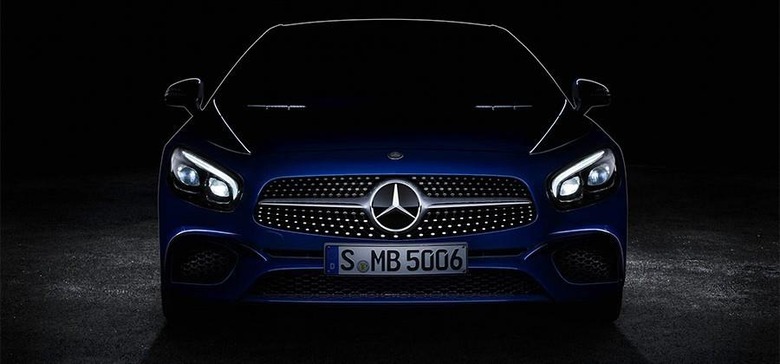 Mercedes is preparing to unveil its all-new SL series and ahead of that official unveil at the LA Auto Show the German firm is teasing fans with a dark image of the front end of the car. It's hard to tell much about what the car will look like, but the new SL certainly has a striking front end from what we can see.
What we can tell from the front end image is that Mercedes has changed the headlights making it look more like the other Mercedes vehicles like the S-class, C-class, and AMG GT sports car. The front end also looks rather flat and thin compared to some past Mercedes designs.
The grille and air intakes are changed and appear to have a diamond pattern behind them. Mercedes has been changing the naming convention it uses for its cars, but the SL seems to be immune to those changes. Technically the SL would be the SLS since roadsters are starting with the SL lettering.
The big and official unveil for the car will come in LA later this month. Mercedes has its press conference set for Wednesday, November 18 starting at 12:05 pacific. All the details on the car are expected then.
SOURCE: CNET