New MacBook Pro features debris-repelling keyboard, iFixit discovers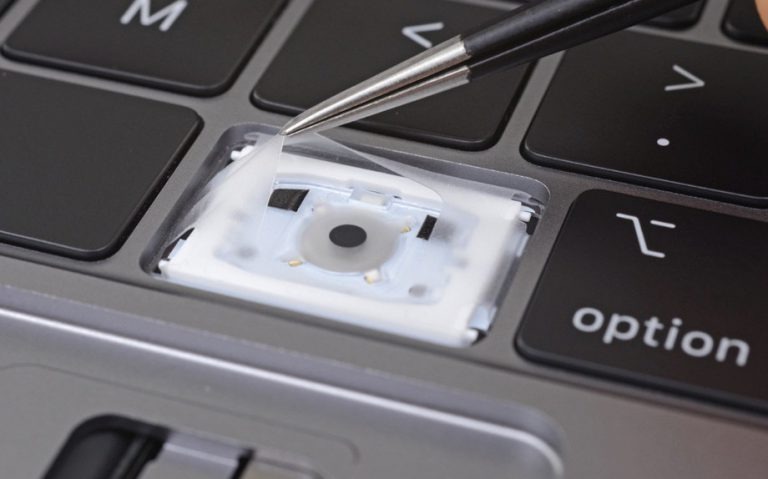 As you may have heard, Apple released new MacBook Pros earlier this week, featuring the usual processor and RAM updates, along with True Tone displays. Less touted, however, was an "improved third-generation keyboard" which only promises to offer a quieter typing experience. Apple didn't say anything about making real changes to the keyboard's butterfly switch mechanism, leaving us wondering if they'd even addressed the recently acknowledged "sticky key" problem. As it turns out, they did.
The teardown pros at iFixit have discovered that Apple may have in fact improved the new MacBook Pros' keyboards to prevent dust and other particles from getting stuck under individual keys, but just kept quiet about it. In their teardown of a 15-inch model, iFixit found a new silicone membrane under each key of the laptop's keyboard.
The silicone membrane appears to be specifically designed to keep dirt and other debris from getting under keys and interfering with the switch mechanism. This exact issue has been a problem with the recent MacBook and MacBook Pro models, as particles result in locked up keys, unable to be pressed. After a number of lawsuits, Apple recently acknowledged the situation and launched a free repair program.
As for the updated keyboard, the new solution is almost identical to an Apple patent that was revealed earlier this year, featuring a membrane that sealed the gaps around mechanical components and prevent particles from building up. iFixit and others have suggested that the reason Apple isn't announcing this upgrade is because it would in turn also be admitting there was a problem with the previous MacBook Pro keyboard, and that could result in more trouble with the ongoing lawsuits.
SOURCE iFixit