New Lenses From Sigma, 50-150mm And 70-200mm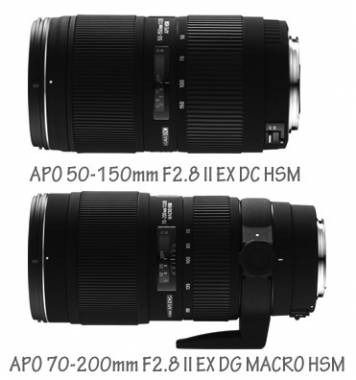 Sigma announces two new updates to their existing line of zoom lenses, the APO 70-200mm F2.8 II EX DG MACRO HSM and APO 50-150mm F2.8 II EX DC HSM. The 35mm Full Frame 70-200mm II version added one more ELD glass elements to improve chromatic aberrations, make it 3 compare to last model. The size, weight, aperture blades, MFD and magnification has no significant changes compare the last model. It is also compatible with Sigma 1.4x EX DG and 2x EX DG APO Tele-Converters. Price and availability are to be announced but expected to be around MSRP of $1200, $850 street price like last model.
Another large aperture zoom lens is aimed for APS-C (digital lens) users. You still can use it on a full frame or larger sensor body with the cost of Vignetting. Besides gaining 10g from last debut, the new model has nothing to write home about. Like 70-200mm, Sigma will announce the price and availability shortly. Last model has a MSRP of $1,050 and street price at $650.
The original 70-200mm has been a very popular choice among the low-budget shooter. It is half the price of what Canon or Nikon has to offer. A good copy rivals competitor's Image and built quality but lacks the OS (Optical Stabilizer), which is very useful feature for 1.7lb zoom lens at any occasion. Unfortunately we didn't see OS is on top of the must-have-list from Sigma engineers.
New Sigma 50-150 & 70-200 [via dpreview]