New iRig tools to make your music-making dreams come true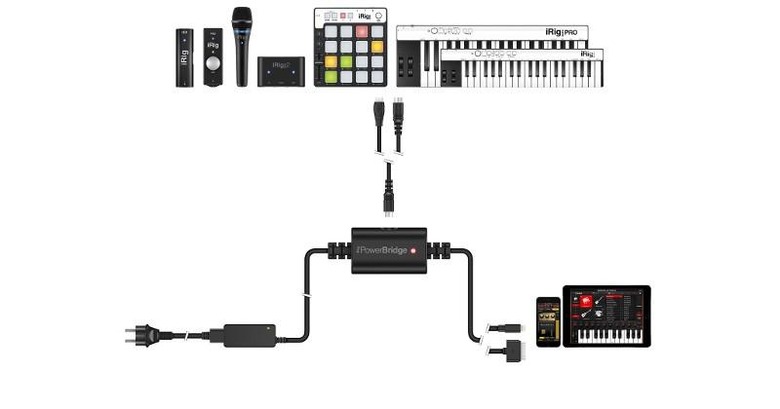 In the spirit of cramming an entire recording studio in your pocket or bag, IK Multimedia is unleashing a trio of new gadgets that will help you record and fine tune your masterpiece on the go. The iRig Mic Studio gives users a professional-grade large-diaphragm microphone in their hands, almost literally. The iRig UA, on the other hand, is the first guitar effects processor made for almost all recent Android devices. And the new iRig PowerBridge keeps both your iOS device and your iRig accessory powered up while you jam and record your tunes.
IK Multimedia bills it as the first ultra-portable large diaphragm digital microphone for iOS, Android, PCs, and Macs. That's quite a mouthful, but it all boils down to a studio-quality microphone that you can use on your platform of choice. For audiophiles, its specs include a large 1-inch diameter back electret condenser capsule, a 24-bit 44.1/48 kHz A/D converter, and a low-noise high-definition preamp. All of these crammed inside an enclosure that barely reaches the iPhone in size. But lest you think you'll be holding this all the time, the mic comes with a petite tripod stand to prop it up whenever you need it.
The iRig Mic Studio has a female micro USB port and a variety of connectors for a variety of devices, including Lightning for iOS devices, micro USB for Android, and USB for everything else. Of course, the mic really shines with IK Multimedia's suite of apps for recording, letting users fine tune, record multiple tracks, and even add effects to any recording. The mic has a headphone output for immediate feedback as well as a gain knob control and a multicolor LED indicator for quick access.
Continuing its expansion into Android, IK Multimedia is announcing the iRig UA, the first universal guitar effects processor for Android. IK Multimedia claims that it has finally solved the problem of Android device fragmentation by relocating the digital signal processing (DSP) from the phone to the iRig UA. That module sports a 32-bit DSP, a 24-bit A/D converter with 44.1/48 kHz sample rate, and a low-noise instrument preamp. It connects to Android devices, at least those running Android 4.0 and higher and support USB OTG or host mode, via a micro USB cable. it also has a 1/8" headphone output and a 1/8" AUX input.
The iRig UA is only half the story, however. The other part of the team is the new AmpliTube UA, a new version of the popular guitar and bass multi-effects processing app that has been designed with iRig UA, and therefore Android devices, in mind. The app allows users to create and process their tunes using a huge library of models, stompbox effects, an amplifier and cabinet, a microphone, and a tuner. And since all of the processing happen on the iRig UA and not on the smartphone, there is near zero latency involved, regardless of the model of smartphone in use.
With all these power, however, comes great power drain. Eventually, your device will run out of juice and when that happens, the party is over. That's why IK Multimedia is introducing the iRig PowerBridge which lets you keep on jamming while your iPhone or iPad is recharging. Instead of connecting an iRig device directly to the smartphone or tablet, users will connect them to the PowerBridge, which then connects to the mobile device. The PowerBridge is then connected to a wall socket to power up all devices, ensuring continuous usage for hours.
The iRig PowerBridge is compatible with a good number of IK Multimedia's devices, including the iRig Mic HD, iRig Keys, iRig Pro, iRig HD, iRig Pads and iRig MIDI 2. Sorry, Android users, the other end of the PowerBridge only connects to a 30-pin or Lightning port, which pretty much means an iPhone or an iPad.
The iRig Mic Studio will come in black or silver color choices and will be available starting the first quarter of this year for $179.99/€144.99. The iRig UA will be arriving in the second quarter with a price tag of $99.99/€79.99. The AmpliTube UA app will be free on Google Play Store. Lastly, the iRig PowerBridge will arrive on store shelves this quarter as well for $69.99/€54.99. It will come in two versions, one with a 30-pin connector and another for Lightning.