New HTC One (M9?) shown next to HTC One M8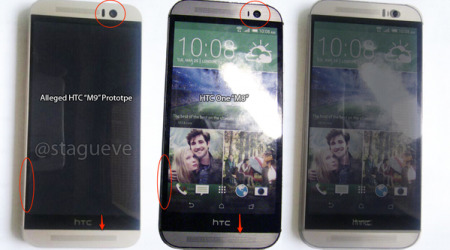 The HTC One "M9" (we don't know what they'll call it, but that's the lineal naming successor) is being leaked and re-leaked so much we're starting to get excited for it. A new-look One has been showed off (possibly) already, but we didn't get a good idea of what it looked like when compared to the One M8 or M7. Now a new pic, leaked via Twitter, may show us exactly why you'd want this new device when compared to HTC's existing flagships.
We'll take a quick minute to state what should be obvious: this could be fake. What is being held out as the One M9 may be a concept rendering. We're not saying it's the real deal, but if it is, HTC has done a nice job of upgrading their flagship.
It's a bit more squat than the One M8, and also a bit more squared-off. The corners are a bit more pronounced, and the bezels look as though they've been minimized. HTC has also changed the speaker grille a bit, and the forward-facing flash looks a touch larger as well.
This leak comes via a familiar source, so we're not doubting where it was found. Still, skepticism is healthy when it comes to leaks, so we're keeping that handy.
Really, it looks as though the HTC One has grown up a touch; what is pictured is a more mature and polished device to our eyes. We're now left looking forward to MWC, and hoping this is what HTC brings us.
Source: Twitter