New HotSpot @Home router revealed by FCC docs, is T-Mobile looking at VoIP?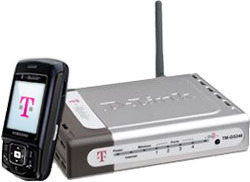 T-Mobile is really pushing their HotSpot @Home service, which is good for everyone. Who wouldn't want a phone that makes calls for free when you're at home, or at some of your most frequented places? According to a new FCC approval, they may be teaming up with Linksys for a new router. This time they're not just looking at your cell phone.
Obviously, details are scarce, but what we know is that the router is going to be produced by Linksys and branded T-Mobile. It will feature two SIM card slots and 2 phone jacks. You'll still get the ethernet ports and WiFi. The two phone jacks make me think of VoIP, as that's pretty much the standard.
The big question is what role the two SIM card slots will play. My guess is that T-Mobile will somehow tie-in VoIP service to a SIM card, which could be pretty cool. Think about this, you decide to go on vacation, but you don't want to miss any calls from home. Just take the SIM card out of your router and pop it into a spare cell phone. That would be pretty cool.
FCC Reveals New HotSpot @Home Router – With Phone Jacks [via phonescoop]