New Google Nexus wireless charger now available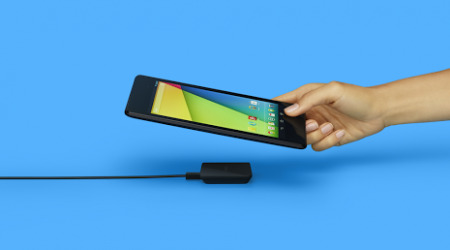 It doesn't exactly take a lot of time or effort to plug a wire into your smartphone to charge. That doesn't mean that smartphone users wouldn't prefer to charge their device without having to use wires. There are all sorts of wireless charging accessories and cases on the market today and some devices come with wireless charging capability from the factory.
This is the case with the Google Nexus 4 and Nexus 5. The Nexus 4 has a wireless charger that was designed to look cool as much as it was designed to work. The original charger has a half-spherical shape with the top cut off at an angle. It worked just fine, but might not have been the most stable design on the planet.
Google has unveiled a new charger that gives up some of the visual style for a more stable charging experience. The new charger tapers towards the bottom of the device and is designed to be more stable. The top face of the charger has a magnetic plate to hold the Nexus 5 and Nexus 7 in place.
The new charger is also compatible with the Nexus 4. The new Nexus Wireless Charger is available via the Google Play Store for $49.99 in the US and Canada. There is no word on a launch in other countries at this time. Check out our review of the Nexus 5 for more details on the smartphone.
SOURCE: Android Community