New Google Maps leaks again: Learning maps and more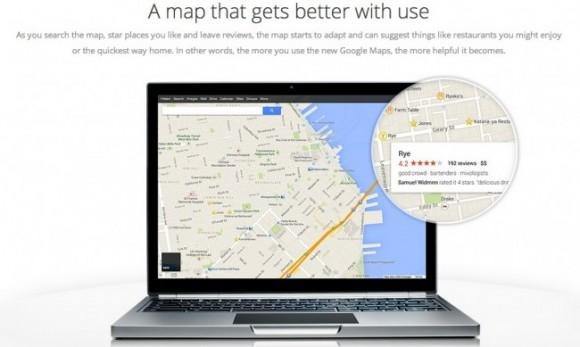 A new glimpse at the updated Google Maps, expected to be revealed at Google I/O this week, has been leaked ahead of schedule, with a hastily-pulled sign-up page for the location service spilling a batch of new screenshots. Signs of a new version of Google Maps, with refreshed graphics and new functionality, emerged earlier this month, but Droid-Life spotted the product page going briefly live just ahead of I/O kicking off, complete with signs of dynamically learning maps that tailor themselves to your needs the more you use them.
"The most comprehensive map, now built for you" Google describes the new system, with a "tailored map for every search and click you make." There's also a new search box, which now floats on top of the map rather than living at the top of the screen as per the current version, and which expands to accommodate other search results like ratings, reviews, and whether there is other mapping data available for a location, such as indoor floorplans.
Google has also apparently baked more of its location-based services into the core Maps view. That includes Google Earth – which, in WebGL-compliant browsers, is directly integrated so can be viewed without needing to install a plugin first – and Flight Search.
As for navigation directions, the new Google Maps will now show all different methods of transportation on the same map simultaneously. That means the driving route will be shown alongside any public transportation options, such as trains or subways, and presumably – for shorter journeys – the route to take on-foot if you're up for the exercise.
So far so UI refresh, but it's the ability of the maps to tailor themselves to individual users' that could be the most interesting part of the reworked version. "As you search the map, star places you like and leave reviews," Google explains, "the map starts to adapt and can suggest things like restaurants you might enjoy or the quickest way home."
Whether Google intends to transfer those features over to the mobile version of Google Maps is unstated, though given Android has its own predictive assistant technology in the shape of Google Now, we wouldn't be at all surprised to see this learning system start pinging out more proactive suggestion cards in the near future.
Google is almost certain to announce and fully detail the new Google Maps at I/O, which kicks off in San Francisco later today.