New GE Monogram Monster Refrigerator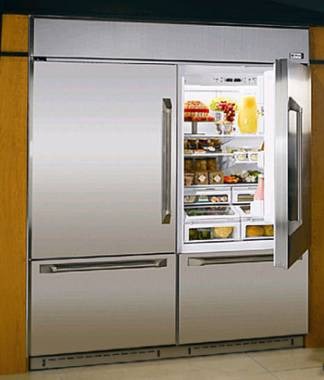 New from the GE Monogram series of appliances is a goliath 72-inch wide built-in refridgerator that is both grotesquely massive in size and elegantly minimal in design. It is made of premium 304-grade stainless steel and measures H84" x D29" x W72". This giant has a total capacity of 41.2 cubic feet and sports a good host of features including an advanced temperature management system with multi-shelf "Air Tower."
The unique system provides an even distribution of air throughout the humidity-controlled vegetable compartments and the sealed snack pans to maintain freshness and preserve food longer. The upfront electronic controls with digital readouts also allow for easier control of the temperature inside.
Other more ordinary features include automatic ice maker, water filtration system, ice storage bin, and wine caddy. The 10 glass shelves inside can be adjusted to suit your needs. And should you need such a behemoth of a refrigerator, I hope its because you have 10 mouths to feed and not simply too much cash lying around. The price for this hunk of appliance is not listed on the GE site, which leads me to believe it is pretty darn expensive.
The GE Monogram Refrigerator [Via: LuxuryLaunches]