New gadget powers your devices while you fly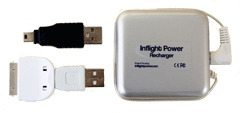 It never fails, whenever you're someplace far away from an outlet, your most precious gadget's battery fails you. The airplane can be one of those annoying places. Luckily Inflight has developed a cool new gadget that can save the day.
The Power Executive Bundle will plug into the audio jack found on many airplanes and pumps out juice via USB to any of your portable gadget so that you can continue listening to music, watching videos or playing games.
You get a variety of plug-in tips for the unit such as those for the iPod, nano, mini, iPhone and even a variety of cell phones. You can even use it with a regular USB cable to charge up a laptop. One of these will only run you around $35-45.
New USB gadget allows for inflight recharge [via coolestgadgets]