New earbuds from Solid Alliance

Earbuds have become so boring these days. Sure everybody makes some kind of fruity colored or interestingly textured bud. But those just dont really do it for me.  I would much walk around wearing a pair of Solid Alliances new headphones. Which feature every thing from an apple with arrow through it to mushrooms straight out of a Mario Bros.  If you are feeling especially fun they even have some earbuds with little samurai swords.
When I say new I mean designs, they have done this once before. With the same awesome results. Like really, who wouldn't want to cruise around town with a  Frankenstein esque bolt sticking out of their ear?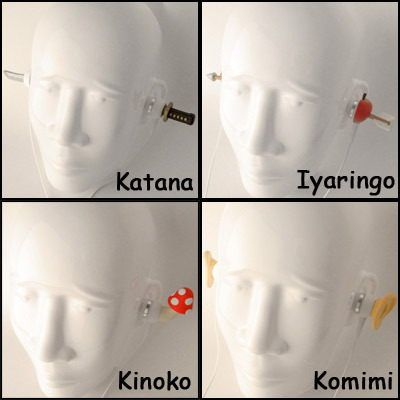 Sadly these aren't available state side yet. Which means for now we are going to have to buy from japan or use auction services such as ebay or yahoo auctions.
There are a few Japanese etailers who stock them such as  Japan Trend Shop, geekstuff4u, and Rinkya.