New Dell 4210X DLP projector shows up, up for ordering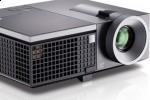 The new Dell 4210X appears like a decade old projector housed in an unattractive rectangular-shaped outfit. On technical standpoint, there aren't much to brag about : a high lumen business class beamer packs only 1024x728 resolution DLP panel with 3,500 nits, 2k:1 contrast ratio images output, and no mechanical lens-shift.
But considering it retails at $1,199, the 4210X is quite decent for its features. It does provide a HDMI output and a dual VGA connectivity which could be useful to switch in between presentations. Of course, it also could be easier and faster to set up a VMware-machine than having two separate sources for presentation.
The Dell 4210X DLP projector is up for ordering now at company's online store.