New convertible VW Beetle debuts in LA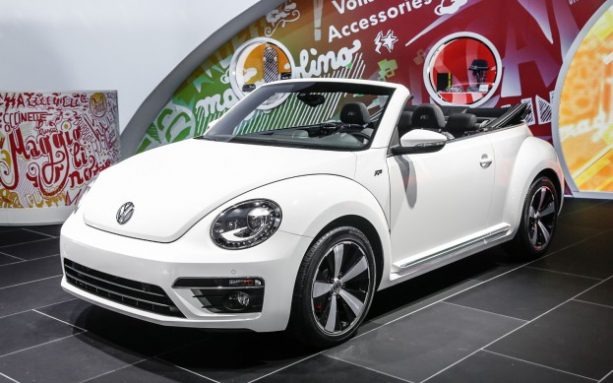 Volkswagen is on hand at the 2012 Los Angeles Auto Show and has unveiled the third-generation Beetle Convertible. The new Beetle Convertible shares much of the same design as the new third-generation Beetle Coupe with a wider, longer, and sleeker design. The new design is an attempt by Volkswagen to attract more male buyers to a vehicle more popular with women.
At the show Volkswagen showed off three special edition Beetle Convertible models, including one called 50s that is black on the outside, and tan on the inside. A version called 60s has two-tone seats and denim blue paint. The final special version was called 70s and was toffee brown on the outside with chrome disc wheels.
The special editions are more than just car show eye candy and will all be available when the new Beetle Convertible goes on sale next month. The vehicle will start at $25,790. The Beetle Convertible is available with a black or brown top and the top goes down in 9.5 seconds using power assist. The top to be operated at speeds of up to 31 mph.
The Beetle Convertible will be offered with a 2.5-liter four-cylinder engine paired with a six-speed automatic transmission for base models. Optional engines will include a two-liter turbo four and a two-liter diesel promising 41 mpg. The optional engines can be paired with a six-speed manual or a DSG transmissions.
[via Motortrend]