New CatWalk stepping stones allow for a front yard light show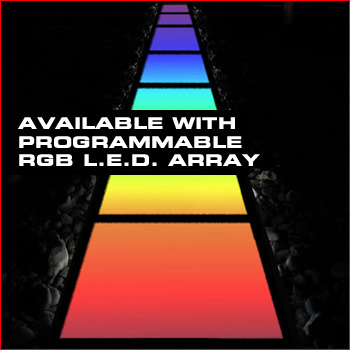 More often than not you will find drab walkways leading to your doorstep or slippery stepping-stones that tend to crack. The CatWalk walkway is a modular steel walkway that was created with modernism, elegance, versatility, safety, and durability in mind.
This easy to install walkway can fit virtually any length or width and with adjustable feet may be install on just about any terrain. There are a few customized options to choose from including, illuminated white panels that are lit by LED lights, IPÉ a dark sustainable Brazilian hardwood and Massaranduba, a sustainable Brazilian hardwood that takes on a clean, silver patina.
Soon there will be the option of purchasing a CatWalk equipped with RGB LED lights to allow users to program colorful light shows with the entire color spectrum. You can choose to use a single color or mix and match whatever colors you like. Each CatWalk costs about $2 a year to power so there is no need to worry. Pricing varies upon which options and sizes you would like to order.