New Cases For iPod: iClear And Disko From Griffin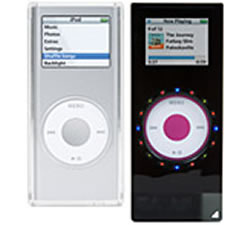 When you spend money on gizmos, one thing that you might have in mind is how to keep it look new and shiny. Protecting them from scratches and nicks could be somewhat hassle especially with your iPod. So, what can you do? You can dress them up with a good looking protector. In that case, you have a cool looking iPod with protection at the same time.
Griffin has introduced iClear and Disko that's supposed to be your hippest iPod protection. The iClear provides a total protection for your iPod yet allowing easy access to the iPod's control wheel, audio jack, on switch, USB port, and LED. It is "a tough, polycarbonate two-piece shell that is strong enough to take the daily abuse of active lifestyle."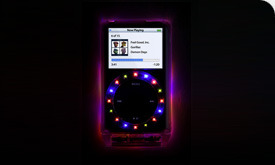 The Disko is as tough as iClear, but it also deliver a ring of colored LED around the click wheel that can light up, swirl, flash or chase in a variety of fun pattern. Spice up your iPod with 3 light colors and 5 lighting sequences, Disko is available in clear or clack polycarbonate. The suggested price for iClear is $19.99 and Disko is $29.99.
Griffin's iClear and Disko cases for iPod Nano [via newlaunches]