New ATM machine dispenses jobs instead of cash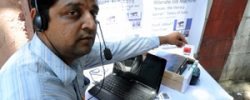 An entrepreneur and former HP and Honeywell software professional, Nandan Rajan, has taken it upon himself to create a new kind of ATM-like vending machine that helps the disadvantaged find jobs. This Automated Job Machine or AJM makes it easier to connect illiterate youths in developing areas with available jobs.
Rajan currently only has one AJM in operation that sits in Sampige Road in Malleswaram. Many illiterate youths migrate to the city there seeking jobs, but are often times cheated by agents that claim to find them jobs. In contrast, Rajan's service is completely free.
Job seekers provide Rajan with details such as name, address, skills, photograph, and a thumb impression. This data is then saved onto a barcode card that the job seeker can swipe on the machine to find matching jobs.
Compatible jobs are read aloud by the machine, a great help to the illiterate job seekers that normally would not be able to read job postings. Often times job postings for maids, gardeners, plumbers, and other laborers are tacked up on trees along footpaths, but the illiterate are not able to read these posters.
The project is still in its early stages with an average of five job seekers visiting the machine daily. And while the machine currently lists jobs for basic laborers, Rajan hopes to add other types of jobs as the system picks up steam. He also plans to incorporate listings for housing availability.
[via BangelorMirror]