New ATI Radeon cards leaked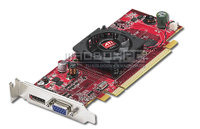 So there is the Radeon HD 3450, 3470, and 3650 the loose specs of each were leaked out over the internet on Christmas. The cheapest, at about $50, is the 3450 featuring an RV620 core with 525MHz core and 256MB of memory and DisplayPort for HD video.
Then there is the 3470 with a 75MHz faster processor and double the memory and DVI. Lastly there is the 3650 which has a RV635 core running at 800MHz with half a gig of RAM.
Sadly though, these cards aren't really being made for gamers, they are more targeted at those making high-end or HD media center computers. Most specifically they are made for playing HD Video, although the RV635 has a considerably high clock speed and a decent amount of memory.
New AMD Radeon Details Leaked [via wired]