New app Super lets you share casual thoughts, pics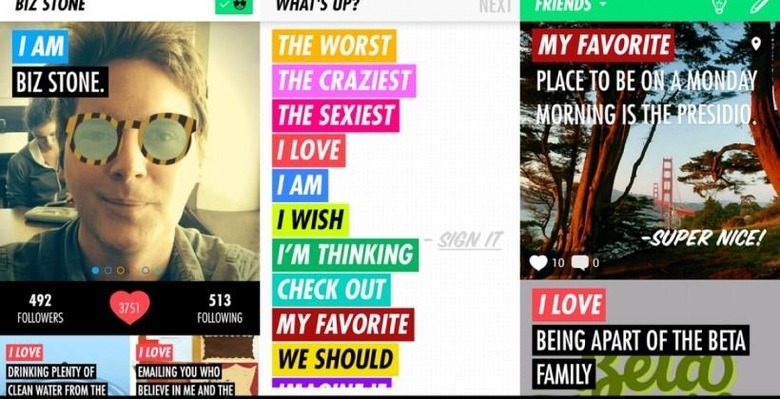 The co-founder of Twitter, Biz Stone, is at it again. This time, his company Jelly Industries is bringing in another Twitter-like app named Super. A pretty simple app, Super lets you take images of your choosing and lay text over them. You can also include video into your post, should you need to. Rather than just start smashing out words, your flashy post first offers up a series of starters for your text, but lets you add anything you like.
Super will let you choose a picture from a series of built-in images, or select your own. You can sync friend lists from Twitter or Facebook, too.
Like so many other services, you can choose to have your posts sent publicly, or just to friends. You can also remove your handle, though Super really isn't meant as an anonymous platform.
Jelly Industry's last app, Jelly, was a crowdsourced Q&A app. Questions sent out onto the interwebz got responses from strangers in return. This time, you're just overlaying stylized text to images.
Via Medium, Stone was pretty grounded about Super, saying "I'm also not going to proclaim that it's the most innovative thing ever or that it's going to save the world. It's not, it's just fun."
Keep that in mind, and Super probably will be a lot of fun. The app is currently available for Android and iOS, and is free to use.