New Amazon Fire HD tablets put power and Prime first: Hands-on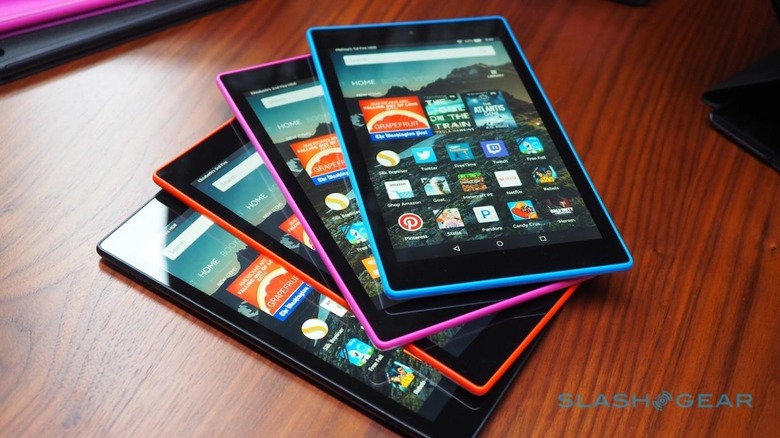 Amazon has refreshed its Fire HD tablet range, bumping up screen quality, durability, and value for money while still putting the retailer's own services to the fore. Now 7.7mm thin and running the latest Android spin-off, Fire OS 5, the new Fire HD kicks off at under $150, too.
Fire HD comes in two sizes, the HD 8 with an 8-inch panel, and the HD 10 with a 10.1-inch panel. Unusually for a tablet these days, Amazon has stuck with 16:10 aspect screens: it argues that makes the most sense for how Fire tablet owners actually use their slates, predominantly for watching video in landscape orientation and reading in portrait. [Update: the aspect ratio is 16:10, not 16:9 as I originally wrote!]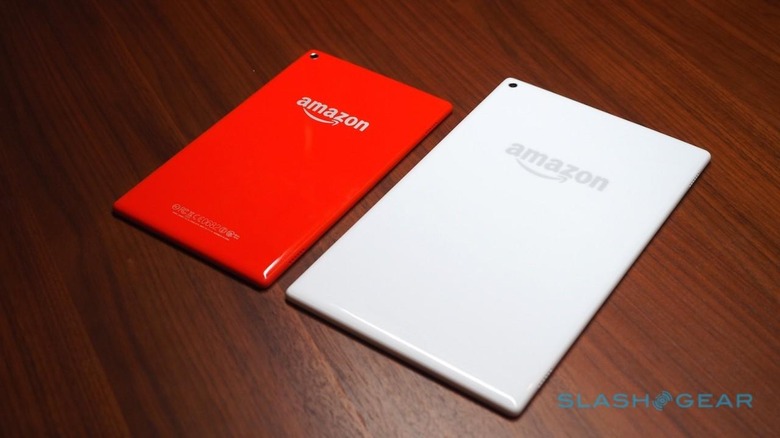 They're excellent panels, not only HD resolution but bright at 400 Nits. Optical lamination – where the layers of the display are bonded together leaving no air gap – helps too; when Amazon first turned a Fire HD 8 on and showed me a comic page, for a split-second I thought it was a dummy, the graphics were so crisp.
Inside, there's a 1.5GHz quad core processor along with 8GB or 16GB of storage in the HD 8, and 16GB or 32GB in the HD 10. Both get a microSD slot content with up to 128GB cards (and, notably, Fire OS now supports downloading offline Prime Video to memory card, not just internal memory).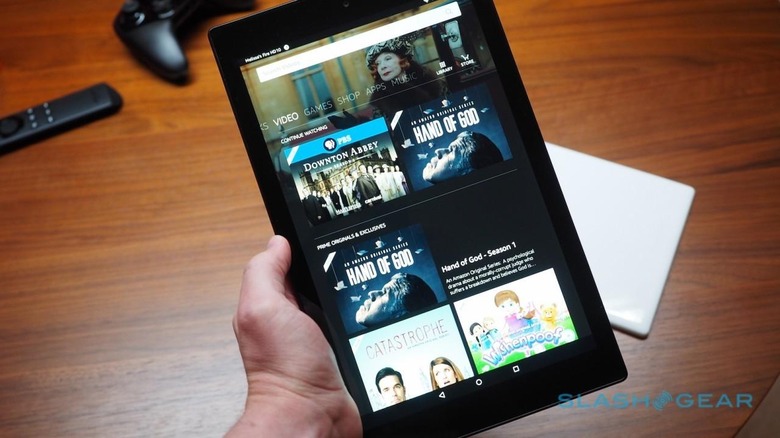 Dolby Audio for the speakers – and Dolby virtual surround when you plug in headphones – uses software to boost volume by a claimed 50-percent over rival tables, without distortion. It's not quite the hand-shaker of the iPad Pro, but the Fire HD does get loud.
Rather than chase the iPad's metal construction, Amazon sticks with plastic, with shiny casings and curved edges reminiscent of Nokia's ill-fated Lumia tablet. There's a good reason for eschewing aluminum, too, Amazon insists – durability.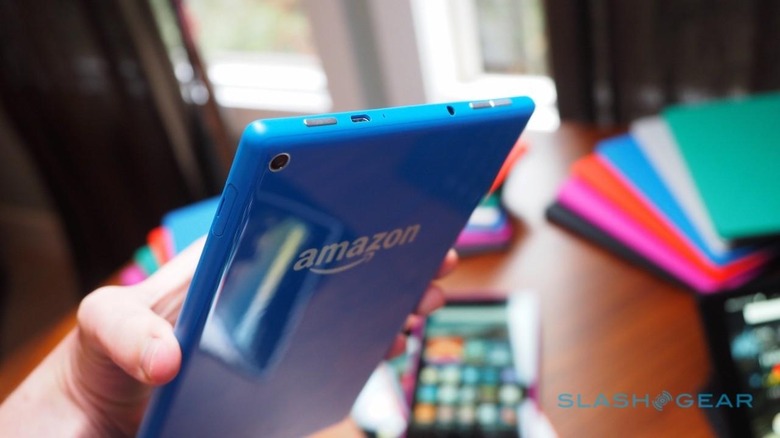 You might suspect metal would best plastic for standing up to rough treatment, but Amazon has a vicious tumble test that says different. In fact, it's claiming its new Fire HD tablets are almost twice as durable as an iPad Air.
In the hand, they're definitely lightweight – not to mention its thinnest ever, Amazon says, in fact – but I found the more playful colors of the Fire HD 8 made the most of the plastic. In contrast, the more sober black and white of the HD 10 look a little more pedestrian; whichever you pick, expect to spend a fair amount of time wiping fingerprints off.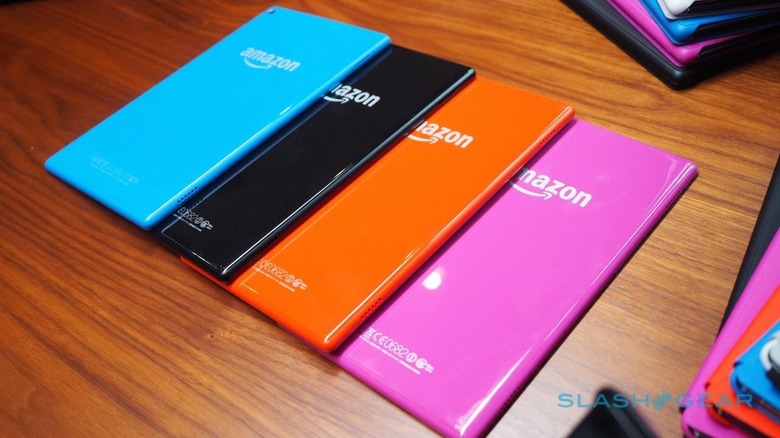 On the back, there's a 5-megapixel camera, while on the from there's a 720p webcam. As before, photos can be automatically uploaded to Amazon's free cloud storage for Fire tablet owners.
Hardware is only half of the story, mind. Fire OS 5 is new too, based on Android Lollipop but giving it the Bezos treatment.
So, there's a new home screen layout, with the default screen showing both new and recently-accessed media on the top half, and apps on the bottom. Swipe left and right, meanwhile, and you go to dedicated media pages – books, music, video, apps, etc. – in what Amazon says was inspired by the pages of a magazine.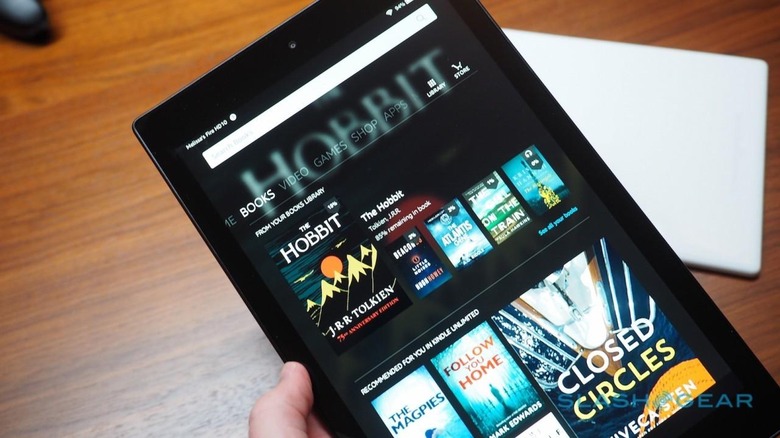 On each, your own content is blended in with what's new. On the books page, for instance, your library is at the top, but as you scroll down you find new titles to download underneath, recommendations, and store categories.
It's obviously intended to get you to buy more, but Amazon says it should also help with content discovery. Under its Amazon Underground program, for instance – where deals with developers have made normally paid apps and in-app purchases free to Amazon customers – software that's part of the bundle is now surfaced on the apps page, complete with an "Actually free" sash.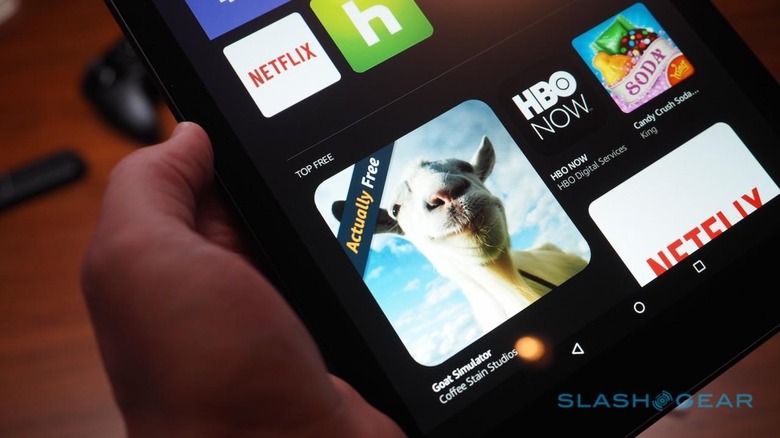 Video goes even further. The Fire HD 8 and 10 debut a new system, Prime On Deck, which when it goes live later this year will – when the tablet is idle overnight, and plugged into power – automatically download new content it thinks you'll like for offline viewing.
The idea is that, if you're suddenly offline on a road trip or on a plane, you'll always have something to watch. Initially, the degree to which it tailors content is going to be relatively low – someone at the company said the goal was to be a better distraction "than the airline magazine" – but that should improve over time. Still, I'd expect things like the company's own Amazon Originals to get priority treatment.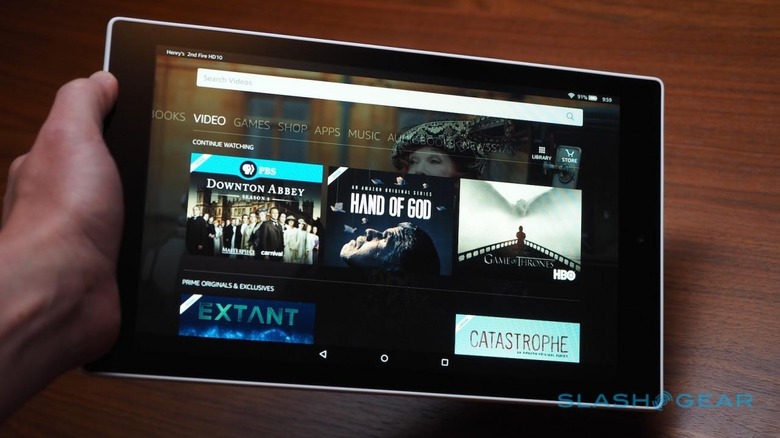 While On Deck will take up a chunk of your storage, it's always the first to go if you actively need the space. Fire OS 5 will automatically delete video files if the user wants to install an app or download their own choice of TV or movie content.
If you'd rather eat through ebooks faster, there's Word Runner. As we've seen from some third-party apps before, it flashes up a single word at a time in the center of the screen, based on the theory that moving your eyes less and allowing the text to effectively "come to you" means you can read it quicker.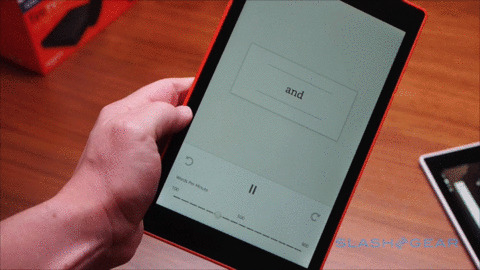 Speed can be adjusted, and Word Runner will automatically adjust the pacing so that complicated or longer words, as well as periods, get a little extra time. Tapping anywhere on the screen pauses it, and you can slide your finger left and right to move through the recent words, or hit navigation buttons to jump forward or back a sentence at a time.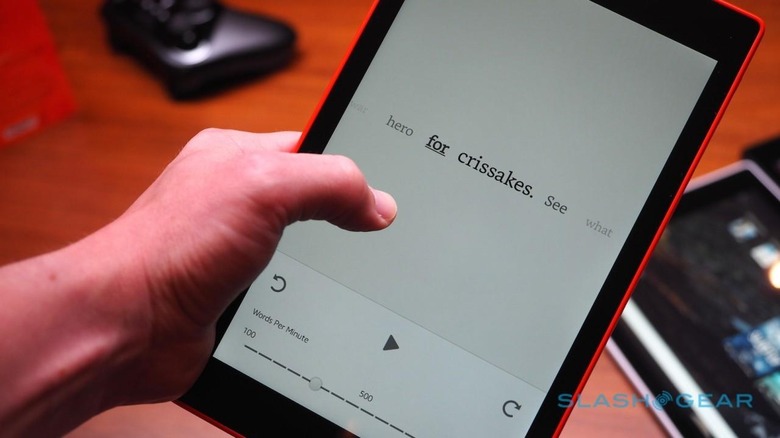 It might not be how you choose to settle down and enjoy a new novel, but for consuming large amounts of text at speed it's surprisingly effective. There's also Amazon's Bookerly font, which the company says was designed to improve readability on both LCD and e-paper screens, though you can of course switch to a different one if you prefer.
Battery life is expected to be around eight hours of mixed usage, meanwhile. A microUSB port on the top edge – along with the power button, headphone jack, and volume keys – is used to recharge.
Several colorful cases will be offered for both tablets. Meanwhile, the Fire HD 10 gets an optional Keyboard Case, with a QWERTY layout of keys with surprisingly good travel, and a trackpad that moves an onscreen cursor. When closed up it's a fairly bulky bundle, mind.
In the end, just as I've said about previous Fire tablets, the degree to which Fire HD makes sense for you depends entirely on how committed you are to Amazon's store. If it's your first port of call for new Kindle books, you're a Prime subscriber, and you don't mind not having access to the full catalog of Google Play, then Amazon's pricing is ambitious and its hardware solid.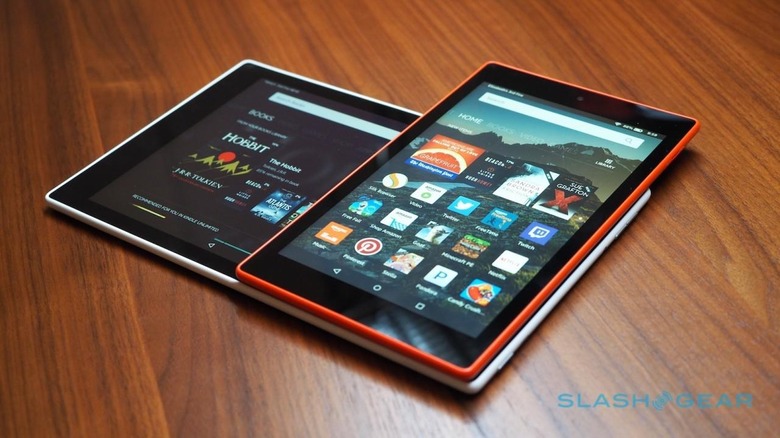 On the flip side, though, you're definitely buying into Amazon's ecosystem. Fire OS could easily seem less in-tune to your needs if you prefer Netflix for video and Nook for books, for instance. Then, another affordable Android tablet, or an iPad, might be a better choice.
As of today you can preorder both tablets: the Fire HD 8 comes in 8GB and 16GB sizes, and in a choice of black, magenta, blue, and tangerine, priced from $149.99, while the Fire HD 10 comes in 16GB and 32GB sizes, in black or white, priced from $229.99. Both are expected to begin shipping September 30.
[gallerybanner p=405116]